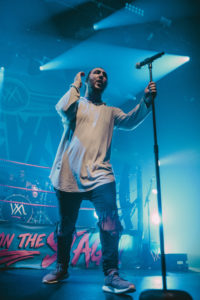 With only a handful of dates left on the Rage On The Stage Tour, I Prevail's lead singer Brian Burkheiser sustained a serious vocal cord injury and unfortunately had to bow out for the remainder of the tour. Much to the surprise of fans, the band announced that the show must go on and their own Dylan Bowman, who plays rhythm guitar for the band, took to the front of the stage to lead the band with clean vocals for the remainder of the tour.
The evening started off with Escape the Fate firing off a hearty 45 minute set that really set the tone for a full evening of intense headbanging and mosh pits.
After a 30 minute set change, I Prevail finally took to the stage to a thoroughly warmed up crowd. The stage set consisted on a 90's era WWE inspired wrestling ring which housed drummer, Gabe Helguera while the other members spread out on each end of the stage with Eric Vanlerberghe taking his spot at the front of the stage next to Dylan Bowman taking over clean vocals.
The band opened up with "Come and Get It" and the fans went crazy when Dylan started to sing. The crowd was so enthusiastic of Dylan's vocals that it made for a truly unique fan experience. In addition to performing fan favorites such as 'Rise', 'Stuck in Your Head', 'Love, Lust and Liars' and 'Chaos', the band performed some fun cover songs including Lil John's 'Get Low' and LMFAO 'Shots'. They also did some monologues with the crowd and even pulled a fan on stage to roast him. The band ended the evening with one encore song, "Lifelines" and the crowd was left on a high as they left the venue.
****
Escape the Fate: 
I Prevail: