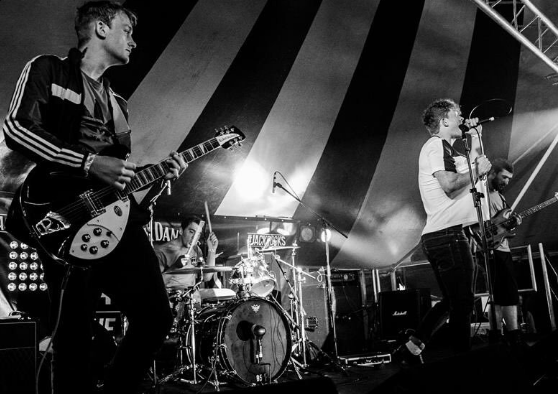 In today's music it is hard to find a balance between bands that sound new and have awesome different sounds and others that sound like they are lost in a sea of musical influences. Don't get me wrong this can work sometimes, I mean look at the Arctic Monkeys- every album of theirs has had a different sound and they always nail it. With this being said, I always try to lookout for those bands that are able to make this sort of method work! I dig and dig for countless hours through Soundcloud to find that band that gets me the right way! Last week around my third cup off coffee at midnight I came across a band that really did wake me up. Their sound was electric and new. Mixed with vibrant melodies, clean drum tracks, and innovative lyrics. They rhymed in a really good way. Their beats were just the right amount of groovy. The sound was fresh and the songs sounded different, but they all worked well together. After getting the chance to chat with them about their musical influences, I understood why they are truly gems to be discovered in the states.
Check out the written interview below with The Assist a new band with cool vibe and let me not forget to mention the BEST 5 a side football team ever!
MWN: Hello guys! So glad to be able to sit with you and chat about your band.  Can you tell me a little bit more about the band members?
The Assist: Hello Maria! Well Mikey does vocals & dance choreographer, Ryan – guitar & smoke machine manager, Jak – bassist & bass player, and Ben is percussion.
MWN: Well very nice to meet you guys. Can you guys tell me a little bit more about how you guys meet and how the band was formed?
The Assist: Well both myself & Ryan are brothers so we sort of just came into each other lives I'm afraid. Ben and Ryan had previously jammed together in studios through friends of friends, Jak had a reputation already in the music industry as throughout his teenage years he continued to rip up the streets with his well thought out bars. Friends of friends really and associates of musicians. We formed in 2014 as a result of numerous bedroom jams between both myself and Ryan. I had previously never sang in my life but I had a lot to talk about yet never an excuse to write about. It soon went from covers of bands like blur & the enemy to original songs of our own that coincidently sounded still, like blur & the enemy. We realized we needed a much more studio like environment, so we left the bedroom and contacted both Jak and Ben proposing the spontaneous idea of starting a band.
MWN: Wow that sounds like it was just meant to be if you ask me. Now did you guys always know you always wanted to be musicians?
The Assist: Music has been a big part of all of our lives from such a young age, although we may not of dreamed of being musicians I think it was always a part of our plans some way or another. We are also incredibly talented footballers and we'd arguably provide the greatest ever 5 a side football team   ever. We've forever been challenging opposing bands to a game of footy but we're yet to find anyone with a similar level of ability.
MWN: Hahaha that's funny! It is cool to hear when musicians have other hobbies other than playing music. This sort of leads me to my next question since you did mention you guys make the best "5 a side" team. How did the name The Assist come about?
The Assist: The assist came around through our love of football. Being so young football was still such a major part of our lives. We were just shouting football related terms at each other for weeks on end in an attempt to find something that sounds slightly like a band name. After silly names like offside, referee and so on 'The Assist' eventually stuck. Although time for football is limited of a weekend with gigs being the main priority we still manage to pack our football in the van.
MWN: Well let me just tell you guys that name is very original. I have never heard of anything like that, and I think it is really cool you guys can relate it to something you enjoy doing. I would say another big part of forming a band is finding the right sound. With that in mind do you guys have different musical influences?
The Assist:  It certainly takes bands a very long time to find their sound. I think you certainly have to offer something different these days to not be passed off as just another generic indie band. There's a fine line between using your influences to create your own style of music and perhaps being influenced by certain artists too much. We've really nurtured our sound over the past few years and just harnessed what has naturally came out in the studio. We have such a wide array of influences that range from, Michael Jackson & Amy Winehouse too blur and even Eminem. You'd think with such sporadic influences our sound couldn't get any more different.
MWN: Wow, those are diverse, but that is incredible how you guys are able to take such different artist to find your own voice in music. How does the writing process for you guys go?
The Assist: With regards to lyrics I have a back catalogue of thousands of lyrics just waiting to fit to a guitar melody/riff of some sort. Depending upon the feel of the song and whether it's an upbeat tune or a slow one I will fit my lyrics accordingly. Sometimes I start fresh and write after the guitar is written. I write lyrics either in my own time or sometimes spontaneously when myself and Ryan are writing new material. It's more natural if you write a chorus together both vocally and musically as it has a great impact on the overall energy of the song. Breakdowns and bridges are wrote beforehand and the song comes together with everyone involved in the studio.
MWN: You know I love bands that collaborate on the process of creating new music. Every band member has something to offer and the sound really does stay true to everyone in the band.
Check out The Assist on social media by clicking the links below:
Contact: theassistband@gmail.com
*Stay tuned for PART II next Tuesday!*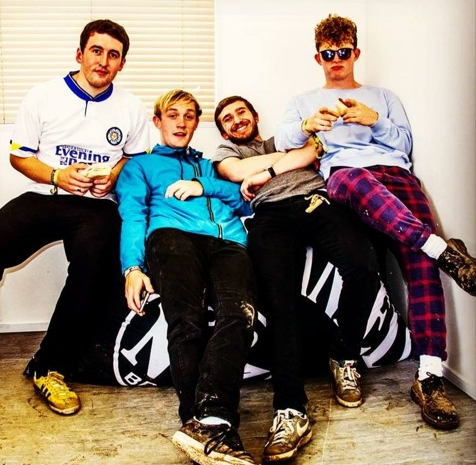 Also make sure you  check out our weekly interviews with your favorite new bands @MusicWhyNot!