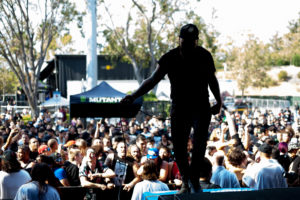 It's 12:35pm, on a drizzly summer day in Mountain View, CA. Attendance is high, and the music is loud. The last leg of Vans Warped Tour is about to kick off and you can feel the adrenaline in the air. Bands from all over the US play in this annual festival, and every year it is as packed as it was the year before. On this particular day, MWN was able to follow one of these bands to get an inside look at what goes into, and comes out of a kickass show at warped.
After The Burial formed in 2004. Known for amazing lyrics and hard hitting heavy-metal tracks, they are one of the top bands in their style category. Five full length albums, andtouring across the world, After The Burial's success is an unsurprising achievement. Beyond talented, with perseverance through challenges most bands never come out of.
After collecting necessary credentials, I was walked back by the lead singer of ATB, Anthony Notarmaso. Rows of tourbuses in a gated and secured area, I see many bands "hanging around" getting geared up and ready to play their sets for the day.  We head over to the middle of the lot where their bus is, and I find they have a great amount of friends, relaxed and enjoying some brews, food and laughs with each other. This is Anthony's home show. He grew up in the Bay Area, so it's that much more special to be playing here in mountain view. Seeing old friends, catching up and the chance to show them what he does day in and day out on tour. The bus is a decent size, but you can tell as time goes on it would start to feel a bit cramped. Months of being packed together, sharing the same space can most definitely be wearing. Anthony begins his voice warm ups while we sit and converse amongst ourselves.
As it comes time for the bands set, I went to the photo pit to get my images. After the first three songs, press is escorted out of the pit as they only allow for that time frame. I made my way back to the back of the stage where I was able to watch the rest of the set from, with all of After The Burials friends and family lining the back wall as well. It's sweet to see the crowd bellowing out lyrics and banging their heads within the mosh pit. There are signs that read "DO NOT CROWD SURF" but there were many rule breakers that felt the need to anyways. The energy from the stage is mind blowing. You can feel how much heart and soul goes into their work and it is reciprocated by the amazing amount of fans they have.
After the set, Anthony heads over to the merch tent to meet and greet with fans. There is a quite a line formed, and he takes the time to answer questions, smile for photos and show his appreciation for them. I purchased two shirts to show my support, and headed back to the bus to say my farewells and thanks as it was a truly one of a kind experience.
I was able to get a one on one interview with Anthony, answering some questions I had and that listeners would like to know!
 MWN: This is your second Warped Tour, with the first being 2012.. is there anything different about this tour? Are there definite  dissimilarities, or does it feel about the same being back?
After the Burial: The first time we played warped we were playing a smaller stage, it was a lot harder of a tour because of that. When you play a main stage you don't have to push gear 500 miles to the stage everyday since our gear gets loaded into a 18 wheeler after every show. It makes it easier on the band, all we have to focus on is playing. That's how it should be. Also there's a lot more metal bands on this one compared to 2012. In 2012 it was us and maybe two more bands that were "Metal" we feel more where we should be on this one for sure.
 MWN: What moment from the tour sticks out in your mind?
After the Burial: Home show in Minnesota, huge crowd, amazing fans! Someone threw a beer can with a little bit of beer left in it from the back of the crowd, I saw it out the corner of my eye while singing and it made its way all the way to the stage. I caught it like a pro!
 MWN: What do your fans often say to you?
After the Burial: We have the best fans, I hear all sorts of stuff. They tell us to keep making music, that our music helped them get through some tough times or that they started learning music because of us. It's awesome hearing that, I never wanted to be in a band to be rich or famous or anything like that. I just wanted to touch people through what we write.
 MWN: Is there a definite fan favorite track?
After the Burial: Lost in the static is def the fan favorite, it's just one of those songs that people love. It's a fun one to play too so I don't think it'll ever leave our set haha.
 MWN: What is your song writing process?
After the Burial: Well we all live in different states, we write a lot through sending music files back and forth to each other. Trent will send me a song, I'll demo vocals and send them back to him and we go back and forth. That's just the beginning though to get a head start, we get the in the studio for about a month and write a record, that's when things get serious.
 MWN: You've been with the band since 2008, how was it when you first joined to now? Was it a natural fit from the beginning?
After the Burial: It's been a long journey for sure, lots of ups and a lot of downs. When I first joined it was a lot harder than it is now, it was tough going for sure. We've had some tragic stuff happen to us but we stayed together for the most part minus a small member change. I came from being a big fan of hardcore to joining this heavy metal band so that was a bit of a learning curve but I'm totally happy of where we ended up as a band now. We're a happy band, times are good.
MWN: What's next for ATB?
After the Burial: We're going overseas for a bit and then it's time to write a new record. That whole process will take a while and it'll be the most time off we've had in about two years. I'm looking forward to it, plus I'm getting married!!
MWN: An amazing experience with a great band. Thank you After The Burial for a memorable day!
****
Coverage By: Clair Nichole | Instagram @coco.nichole | Exclusively for @Music, Why Not! – All Rights Reserved-