Declan McKenna – What Do You Think About The Car?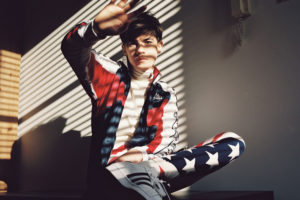 Feel like having a fun night with your friends, dancing in the living room? What Do You Think About The Car? by Declan McKenna is the album that should be playing. The British singer- songwriter is just 18 years old, but has finally released his debut album he's dreamt about since the age of four. "Dec, what do you think about the car? Do you like it?" "I think it's really good, and now I'm going to sing my new album." The album started then, and fourteen years later, it finally happened.

The indiepop songs all seem very light and happy, like you would expect from an 18 year old. However, reality is far from this as McKenna has written songs about serious topics. The song Paracetamol, for example, is based on the suicide of transgender girl Leelah Alcorn in 2014. Track eight, Bethlehem, starts off somewhat more downbeat but slowly builds up to a real tune., like the rest of the album. The organ, backing vocals, and happy guitar riffs are characteristic of his sound. The song Listen To Your Friends has such refreshing bridge it's a quite different track from the rest . McKenna's made this a special album: including the recurring adorable kids voices- referring to his own childhood, and the new sound in this entire album. It's truly refreshing to see such a young musician expirement with music and touch on serious topics. If you haven't already you should definitely check out his new album now streaming on all digital platforms. 
By: Ava Rachel |Instagram: @avarachel | Exclusively for @Music, Why Not! – All Rights Reserved-
****