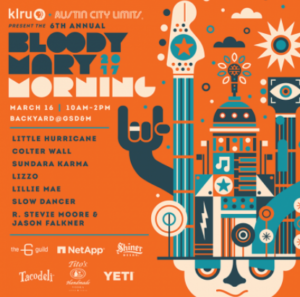 There is nothing better than live music and free drinks. The official Austin City Limits Morning party returned to SXSW this year with free Bloody Marys from Tito's Vodka, beer from Shiner Beer and breakfast tacos from Tacodeli (while supplies last of course). Not to mention all the cool artist that performed- including some of our favorites such as Slow Dancer, Sundara Karma, and Lizzio. It was super fun and there were so many people there that getting there early was crucial to get all the free food. There was a pretty long line by the time we got there. Everyone was waiting for there free booze, food , and kick ass music. Those are the key things SXSW is known for. It is actually super easy to eat all three meals at events like this one as long as one is organized.
Sundara Karma the British rock band was probably one of the most anticipated acts of the night. They played a couple songs including a few of their new album Youth Is Only Ever Fun in Retrospect. They kicked it off playing " A Young Understating" and "She Said." They were for sure crowd favorites.
****
Another crowd favorite was Slow Dancer the alternative solo artist. He captivated the crowd with his soft groovy tunes and enchanting vocals. He set of the night playing "Don't Believe" and picked up love from everyone real fast. The entire event was a total success. Everyone seemed to have enjoyed it and the performance by far went over the standars expected. It was a fun event, but only for those over 21 as they were very strict with checking ID's.
Written By: Maria Limon exclusively for @ Music, Why Not! -All Rights Reserved- April 01, 2017