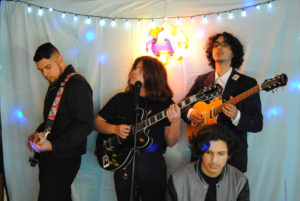 MWN: What influenced you into wanting to start the band?
BluNites: Seeing shows on YouTube of bands such as The Strokes, Arctic Monkeys, The Beatles, and Interpol is what got us to start the band.
MWN: Which song did you have a great experience when writing/recording it?
BluNites: Roxy was our favorite to record because it had a different sound. It was challenging for some of us to record but overall a good time.
MWN: What is the whole meaning behind the album "13"?
BluNites: Our album "13" is about what we experienced during our junior year in High School. Writing this album really helped us overcome all we went through. We turned those bad experiences into something positive.
MWN: What do you imagine your first tour being like?
BluNites: We imagine our first tour being a good time. Touring is something we want to do for the rest of our life's and we are ready for what's to come.
MWN: Which artist/band do you wish you could tour with?
BluNites: The bands we'd like to tour with are The Strokes, Catfish and the Bottlemen, The Buttertones, and The Monsoon.
MWN: How many unreleased songs didn't make the album?
BluNites: There's 5 unreleased songs that didn't make the album. But there is plans of releasing them down the line.
MWN: What is the songwriting process like?
BluNites: The writing process is very straight forward . Someone will come up with a guitar riff or a melody. Then everyone will put their parts in and the song comes alive on its own right there.
MWN: Do you plan on incorporating more spanish songs like The Void?
BluNites: At the moment there's isn't plans of incorporating another spanish song but possibly down the road we will do it again.
MWN: What are the future plans for the band?
BluNites: The future plans for our band is reaching new audiences and creating a larger fanbase. We just want to get out there and play as many shows as possible because that's what we love to do.
MWN: What song makes you think of home?
BluNites: One of our songs that makes us think of home is "High School" because we all connected to that song on a personal level. Another song that makes us think of home that is not ours is "Someday" by The Strokes because we all grew up listening to it.
MWN: What is your dream festival to play in?
BluNites: The festivals we'd like to play in the future would be Reading and Lollapalooza due to all the great bands that have played them both.
MWN: Describe the last song your band released in three words?
BluNites: We would describe the last song we released as A Fucking Bop.
Interview By: Ailine Solis and Maria Limon
****
Artist Links: Facebook | Instagram |Twitter | Spotify |