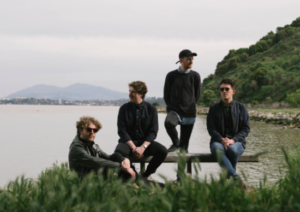 New music from the Irish band Cloud Castle Lake was released on December 08. Their melodic tune produced by Rob Kirwan entitled "Bonfire" is peaceful and dreamy. The songs starts off with a soft melody and vocals that sound strong, but give you a sense of fragility. The drum is introduced in between soft notes which gives it a kick. The song is so dreamy and peaceful.
"Bonfire is based around a pretty simple melody I came up with a few years ago," explains vocalist Daniel McAuley. "I kept being drawn back to it periodically and steadily adding and expanding it until it grew out into a full song. Writing it felt like a meditative task – what I'd imagine knitting a scarf is like. He goes on to explain that the lyrics have to do with doubt and denial and keeping secrets. They're very loosely based on an old Irish/Welsh myth about rival tribes trying to find out the secret name of the other's god in order to defeat them."
There is a beautiful chorus that helps it tie all together. It was performed by Tonnta, a contemporary choral group from Dublin. The song picks up speed and strength as it approaches the beautiful chorus. It all still makes you feel like you are in a dream staring up at a sky full of radiant stars. Each note flows perfectly with the other. The vocals are outstanding and the instrumentals are just perfection. It has fluidity but at the same it changes constantly. I definitely recommend you listen to this master piece by clicking on the video below.
Cloud Castle Lake is also set to tour the states in 2018. For a full list of tour dates and ticket information, please visit www.cloudcastlelakemusic.com
NORTH AMERICAN TOUR DATES
01/29 – Hotel Café – Los Angeles, CA
01/30 – Brick and Mortar Music Hall – San Francisco, CA
02/01 – Schubas Tavern – Chicago, IL
02/05 – Great Scott – Allston, MA
02/06 – Rockwood Music Hall – New York, NY
 By: Maria Limon | @shotbylimon
****