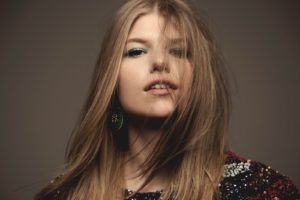 MWN: Hello! Thanks so much for taking the time to answer these questions. So let's kick things off with music and education. In what ways have studying philosophy at a renowned university shaped your music?
Brynn Elliott: In so many ways studying has shaped my music. I wrote Might Not Like Me at a time when I was studying women philosophers of the 17th century and how because they were women they weren't really considered  real philosophers. I have also found deep friendships at Harvard. It is a place full of very inspiring  people and I write about that aspect of the experience quite a bit.
MWN: So "Might Not Like Me" is out now. I love the vibe of the song. Your vocals are killers and the pop infusion is really cool. The meaning of the message is also really cool. I love the girl empowerment. So what was the inspiration behind the song?
Brynn Elliott: Yes! So in addition to being about what I was learning about in school with the women philosophers its also about my first ever breakup that happened in college. I felt like I couldn't be myself in this relationship and I was so concerned that this boy wouldn't like me. So I held back parts of myself. I realized that this was a pattern in my life not just with this boy but with a lot of people in my life. So I decided to write this anthem about the fact that its okay if some people didn't like me. The most important thing is to be honest with yourself and with others. So that's what its about! Embracing who you were made to be, and not apologizing for it.
MWN: Your E.P is set to release sometime this year. How are you prepping for that? How do you decided when it's finished?
Brynn Elliott: I have written a bunch of pop and rock music in the last year and have been releasing singles all year, which is the plan for the rest of the year! There's a feeling I get when I know a song is finished. It's somewhere between satisfaction, and a deep hope that people will enjoy the song and benefit from the lyrics and melody.
MWN: Many of the previous artists you have toured with have been household names. How have those experiences been like? What has been the most surreal moment thus far?
Brynn Elliott: Yes! It honestly has been so surreal. I have been able to open for some of my heroes like Alanis Morissette,  Brandi Carlile, and Grace Potter. I also opened for O.A.R a few summers ago and they are the best guys! We played Red Rocks, which what truly the most surreal moment of my career so far. That night I got to perform Livin' on a Prayer with Richie Sambora on the Red Rocks stage!! And Red Rocks is just holy ground. That was definitely the moment!
MWN: So you are from Atlanta, GA. So how is the music scene like in those places?
Brynn Elliott: The music scene is incredible in Atlanta. There is a lot of hip hop music and I think I have brought some of that  into my own music. Eddie's Attic is one of my favorite venues in Atlanta! John Mayer made his start at that venue along with The Civil Wars. I would definitely say Atlanta is fertile ground for creatives!
MWN: What are some bands you recommend to our readers?
Brynn Elliott: I am very much into LANY at the moment! They just released their first record. Also, a favorite of mine is The Lone Bellow (some fellow Georgians in that band)!
MWN: How does writing a song come to you? Is it the lyrics or music that reaches you first?
Brynn Elliott: It's definitely the melody. I like to let the music of a song inform what it says. I just keep playing the melody over and over until the write words come. Sometimes they come in five minutes and sometimes its five months.
MWN: How have you worked with different producers while still maintaining your true sound?
Brynn Elliott: I have worked with many producers over the years and I think in some ways I am still finding my sound. The good part is I am friends with everyone I make music with, so they know me and help me put the sounds I'm inspired by into the songs. My sound is like the pop music you hear on the radio. But when you see me live we pull out the electric guitars and its a rock show. So, somewhere between pop and rock is where you'll find me.
MWN: Lastly to finish off the interview is there anything you'd like to say to the people who are going to be reading this interview?
Brynn Elliott: I am currently on tour with two of my very most FAVORITE bands, Switchfoot and Lifehouse! So follow me on social media (@brynnelliottmusic on Instagram and @brynn_music on twitter) for all the updates on tour and new singles coming out. And most of all, thank you for reading this interview!
Interview By: Allison Wyrsch and Maria Limon | Exclusively for @Music, Why Not! – All Rights Reserved-
****
 Artist Links: Official Site | Facebook |
Twitter | Instagram | iTunes
*Click to be redirected*