Blossoms Headlining
The NME Awards Tour 2017
Blossoms the five piece band from Stockport consist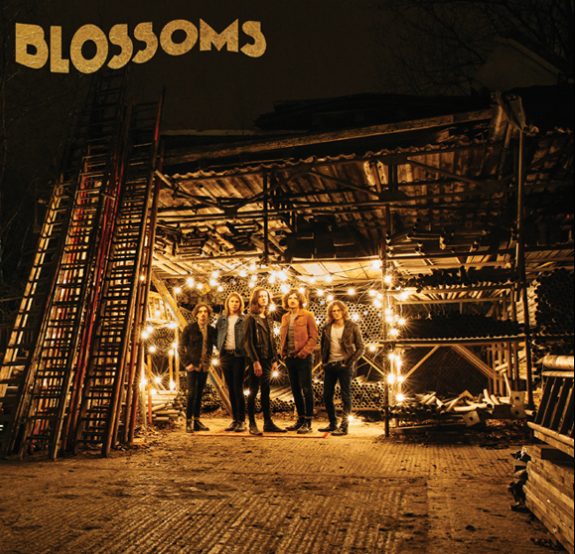 of Tom Ogden (Lead Vocals), Charlie Salt (Bass& Backing Vocals), Josh Dewhurst(Guitar), Joe Donovan (Drums) and Myles Kellock (Keyboards). The band has amount to great success swooping through the indie music scene. Their music is contagious with an 80's pop vibe- it is truly quality. They released their very self entitled album Blossoms August of last year. This album is packed with brilliant melodies. From "Honey Sweet" to "At Most a Kiss" each song is strong enough to stand on its own as a single. While also coming together so beautifully to create a brilliant album.
Their innovative music led them to support the Stone Roses at Etihad Stadium June of last year. They also performed in over 40 music festival- I think 45 to be exact and played over 150 shows. They are already set to perform in many festivals across the world some including: The Governors Ball (New York), FIB Benicassim Festival (Benicassim Spain), Firefly (Dover, Delaware), TRNSMT (Glasgow Green, Scotland), WayHome (Oro-Medonte, near Barrie, Ontario, Canada), and Trinity Ball (Trinity College Dublin), and Coachella (Indio, California).
Blossoms is also set to headline the NME Awards Tour 2017. Not to worry tour dates will be listed below. For this tour they are taking along: Cabbage and Rory Wynne. Blossoms will be making their stop in many venues across the U.K. in the The NME Awards Tour. The much anticipated tour kicks off in Keele University on March 16 and makes its grand finale in Glasgow on April 01. A bit of a fun fact about the headlining band they were nominated for an NME award and a BRIT Award! The NME Awards Tour has featured some of the greatest artist in the alternative, indie, and pop genres. Some past headliners include (honestly speaking some of my all time favorite bands and probably yours): Arctic Monkeys, The Killers, Coldplay, Bloc Party and Florence and the Machine and Blossoms. These names have amounted to very successful musical careers so NME definitely knows how to pick them! It is a very exciting time for the band as they are also set to headline a mini tour in the states! If you get the chance you need to be at one of these gigs. I actually got to see the band play SXSW 2015- they are amazing live so you don't want to miss them!
Quality live music should be witnessed at least once in a life time and this is your chance! Check out the concert dates below- make sure to tune in after the Liverpool Olympia gig for concert photos!
The VO5 NME Awards Tour 2017 dates:
March 2017
Thursday 16th March – Keele University Ballroom, Staffordshire
Friday 17th March – Liverpool Olympia, Liverpool
Saturday 18th March – Brighton Dome, Brighton
Monday 20th March – Engine Shed, Lincoln
Tuesday 21st March – Lemon Grove, Exeter
Thursday 23rd March – Roundhouse, London
Friday 24th March – O2 Academy Bristol, Bristol
Saturday 25th March – Tramshed, Cardiff
Monday 27th March – The Nick Rayns LCR, Norwich
Wednesday 29th March – O2 Academy Birmingham, Birmingham
Thursday 30th March – O2 Academy Leeds, Leedshttps://www.youtube.com/watch?v=tbTmNXbH_Rs
Friday 31st March – O2 Academy Newcastle, Newcastle
April 2017
Saturday 1st April – O2 Academy Glasgow, Glasgow
Tickets are on sale at http://www.nme.com/awards/tour .