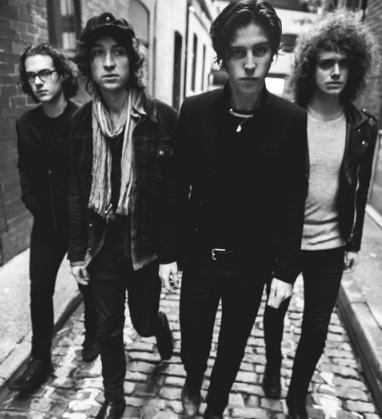 This British indie rock band first formed in Llandudno, Wales in 2010. Van McCann is the band's lead singer from Australia. Johnny Bond plays the guitar, Benji Blakeway plays the bass, and Bob Hall is the drummer. The band played gigs throughout 2012 and 2013 until they were finally signed to Communion Records later in 2013. They only released three singles with them until they moved to Universal records in 2014. They won BBC's Best Newcomer Award.
Their first album was released in September 2014 and titled 'The Balcony.' The album hit number 10 on the UK charts! 'Kathleen' was one of the biggest hits from the album. The refrain is one you can't help but shout along with. The refrain sings, "I've got to give it to you, you give me problems, when you are not in the mood. I've gotta give it you, you give me problems, and made me give in to you. Her dealer hates me you know. He used to see her but she sold him off on down the river." The album also features another fast paced song called 'Cocoon.' It features the lyrics, 'But fuck it if they talk! Fuck it if they try and get to us. Cause I'd rather go blind than let you down.' These lyrics symbolize a carefree lifestyle and all you want to do is jump around and sing to it, being worry free.
Their sophomore LP, 'The Ride', was released in May 2016. '7' was a popular track off of this LP. It features the lyrics, "And I'd beg you, but you know I'm never home. And I'd love you, but I need another year alone. And I've tried to ignore it every time you phone, but I never come close." I interpret this song to be about him being on tour while loving a girl back home. He's saying that he wants to love her, but it's too hard with his busy schedule and the time difference, which he stated it to be 7 hours, the reason behind the title. Yet, although he wants to just give up on the relationship while he's on tour, he can't do it and he always answers her calls. 'Soundcheck' was also a popular track off the album. That was actually the first song of theirs I heard and what brought me to love them.
Van has some seriously talented vocals and each of the boys absolutely kill it on their instrument. The band really is able to harmonize together to make amazing songs. The band is touring this August and September with the well-known punk rock band, Green Day! I don't know about you, but these two bands together are bound to put on an awesome show in my opinion! I am very excited to be seeing them, you should definitely check out if they are playing a show near you soon. But first you need to get online and listen to their awesome tunes. As I always say, it never hurts to take a few minutes out of your day to listen to what could be your new favorite band.
****
****
Check out Catfish and the Bottlemen on tour here: http://www.catfishandthebottlemen.com/live/
Follow them on instagram at: @catfishandthebottlemen
Follow them on twitter at: @thebottlemen
Written By: Hannah Rose |Instagram:  @hannarose11