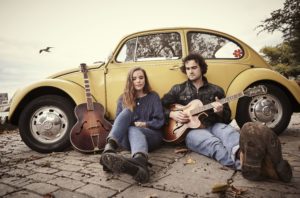 MWN: Hello guys. Thanks so much for taking the time to answer these questions. So let's kick things off with the release of your new EP The Yellow Line which was released June 23. How does it feel to finally release something you guys worked so hard on?
Ferris & Sylvester: It feels great to have something out there for people to listen to. We worked really hard with the producer Youth and his team to create something we were all really proud of. It's been encouraging to hear some good feedback and have strong support. Of course, we've always got one eye on the future but it's nice to think that whatever comes next, we can be happy with our first release.
MWN: The record is very folky I love the warmth in the vocals. What was the creative process like for the EP as far as writing goes?
Ferris & Sylvester: We wrote the songs just the two of us, rewriting some older material and creating brand new ideas. We have no formula with our writing; sometimes Issy will have an idea or sometimes Archie will come up with something, or we start from scratch. The songs on the EP come from a place of truth, something that we've experienced. The songs all started with just guitar and our vocals. We think it's really important for the songs to work in their simplest form before adding anything else. Through working with Youth, the songs developed and evolved into a proper record.
MWN: In the making of the EP did you guys discover anything new about yourself as musicians or as a band?
Ferris & Sylvester: Yes, we'd say so! At the time of recording, we were a fairly new band so this EP was really jumping head first into things which was fantastic for us. But everyday throughout the project, we learnt something new about working together. We're both incredibly passionate and stubborn! So naturally, we sometimes clash when making decisions. Most of all, we discovered what direction we want to take moving forward and where we think our music can develop.
MWN: Would you say your music reflects a diary of your life?
Ferris & Sylvester: A lot of our songs are direct snippets from parts of our lives, both separately and together. Our writing always comes from things that have really happened to us so yes, you could say our music reflects a diary. Perhaps that's what makes the songs relatable; whether you're trying to get by in a big city, or someone suffering from a broken heart, we've all been through it.
MWN: I really like the album and I would say this was a hard pick, but "Cold Summer" is one of my favorite tunes. The vocals are breath taking it reminds of one of my favorite bands The Carpenters there is just a fragility in your voices and the instrumentals are beautiful. Are there any songs in particular that resonate with you guys?
Ferris & Sylvester: Thank you, it's great to hear you like Cold Summer. Of course, every song resonates with us but if we had to chose one it would be 'Berlin'. It was one of the first songs we ever sang together and we had a lot of fun working on it; from the writing, to the recording, to the music video that we filmed at The Battersea Arts Centre.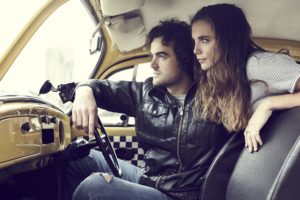 MWN: Lets go for a few fun fire round questions. So this might be a little random, but if you had to play an instrument in a symphonic orchestra what instrument would you choose?
Ferris & Sylvester: Ok, we'll answer separately on this one! For Archie… 'I'd want to whack the massive gong at the back and make a really loud sound.' And for Issy… 'Trumpet. Any day.'
MWN: Do you guys remember your first recollection of live music?
Ferris & Sylvester: For Archie, it was watching his Dad play guitar. My Dad took me to see Squeeze play in Brighton, that was probably the first gig I ever saw. For Issy, it was watching Irish folk singer, Christy Moore… although I remember being very jealous of my older sister going to see the Spice Girls live and I was too young to go. I got to watch it on tv.
MWN: What is the venue you would like to play in that you have not so far?
Ferris & Sylvester: Madison Square Garden excluded obviously.. we'd say The Union Chapel, London. That would be very cool.
MWN: Favorite love song?
Ferris & Sylvester: Long Distance Love, Little Feat. And.. Moon In The Water, Dawes
MWN: What are some bands you guys are really into at the moment?
Ferris & Sylvester: We're always listening to new stuff, but at the moment we're listening to D'Angelo a lot. We also love Shakey Graves.
MWN: Lastly to wrap things up what can we expect in the near future? Once again thanks so much
guys!
Ferris & Sylvester: We're in the middle of writing and recording our next EP. So you might not have to wait very long to hear more songs from us! Very excited for what's to come.
Interview By: Maria Limon |Instagram @shotbylimon | Exclusively for @Music, Why Not! – All Rights Reserved-
****
Band Links: Official Site | Facebook | Twitter | Soundcloud |