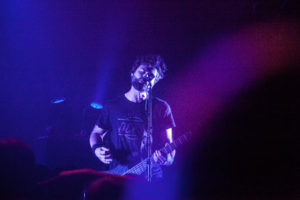 Metalcore Powerhouses Fit For A King rolled through Portland Oregon on December 12th while finishing their American co-headline tour with In Hearts Wake.
The tour package brought two heavy hitting openers (Phineas and Like Moths To Flames) who woke up the packed Portland crowd. The venue was filled from front to back with fans of all ages who were ready to mosh with their favorite bands.
Fit For A King showed what true American metalcore was with a setlist with songs spanning form their entire discography.  You could feel the energy bouncing back and forth from the stage to the crowd as they played some their biggest hits including, "Warpath", "Disease", and "Deathgrip". They kept the crowd hyped and aggressive as they flew through their set and ended with their high energy track, "Pissed Off". But the night was not over yet.
The stage was set and In Hearts Wake made their way into the souls of already fueled and sweaty fans. Playing songs from their entire discography including "Passage", "Wildflower "and "Warcry", the energy never came down for a second. From circle pits, to mosh pits to stagedives, the atmosphere through the entire venue was electric and it felt as though the fans were just as much a part of the performance as the band. But even then, In Hearts Wake had more up their sleeve. Their famous game of sailing across the crowd was played once again as lead vocalist Jake Taylor sailed across the crowd in an inflatable boat  to capture their flag. As their set came to a close they finished with their iconic song "Earthwalker." This show was a true Metalcore party, if you give up the chance to see any of these bands live, you will be sorely missing out.
****
By: Jenna Gusey | Exclusively for @Music, Why Not! | All Rights Reserved