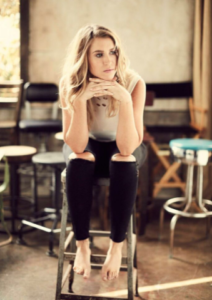 MWN: Hello. Thanks so much for chatting with us. Let's jump right into talking about your latest album Heroin which was released in February of this year. What did it mean for you to release that album?
Kate Grom: "Heroine" was inspired by a quote by author Nora Ephron, "Above all be the heroine of your own life and not the victim". A heroine is defined as a female hero, and I feel it is so important to be your own hero through life's inevitable peaks and valleys. I felt the experiences of my own and of others in my life deserved a platform to be heard, understood, and celebrated. It meant so much to me as an artist to be able to share these stories and provide a comforting, understanding and empathetic atmosphere for the listener as they experience their own life, and the life of the record from start to finish. To have had the opportunity to finally make a record after years of waiting to, was just incredible.
MWN: Now that it has been out for a while- has your perspective changed about it at all?
Kate Grom: After having toured and played shows promoting Heroine, my personal perspective has not changed but I have been able to gain a greater understanding of the listeners perspective. I love being approached after shows and hearing about the listeners experience with a song or the entire record.
MWN: I read that this album was inspired by a quote by writer/ filmmaker Nora Ephron: "Above all, be the heroine of your life, not the victim." Can you touch base on that a little more? How does it connect to you and your work directly?
Kate Grom: I touched upon this in #1, but I came upon Ephron's quote during a transformative period in my mid twenties. I had been living in NYC for several years and was at a standstill between developing my music business career path or my career as an artist, where my heart was and is. But sustaining oneself as both a person and an artist in a city like NYC today is not easy and I had to make changes and decide ultimately what the next step was in my life. I took an opportunity to travel to France, to look at my life from a distant and clear perspective. After a series of random events and opportunities to perform in Paris, I rented a guitar and finished writing "Heroine". So the connection is direct between Ephron's writing, it's timing at a significant moment in my life, resulting in the final inspirational push and completion of the songs on "Heroine".
MWN: I know a lot of emotion goes into the making of any sort of art. For this album in particular did you discover or rediscover anything about yourself as an artist?
Kate Grom: Yes, I have learned a lot more about myself as a person mainly through the promotional and public side of being an artist. For me personally, it is very important to balance alone time with performance time in order to be emotionally prepared to share each song in it's fullness.
MWN: What aspect of your life did you get to explore on this album?
Kate Grom: I was able to explore chapters of my life, and others lives, that had already been "read" so to speak, and view them in the perspective of the "past".
MWN: On Heroin you worked with the incredible producer Stewart Lerman. Who has worked with incredible artist including artist like Willie Nelson, Patti Smith, Antony and the Johnsons just to a name a few. So how was the dynamic in the studio working with him?
Kate Grom: Working with Stewart was a dream. Super easy, very relaxed and open creative environment. Stewart never pushed my vision creatively and was very open to my ideas and wishes for the record. As a music veteran, he was the best soundboard when I got stuck between possibilities and ideas. It was a great dynamic for a new artist.
MWN: What inspires you as an artist? And with this album in particular what was the driving force behind it?
Kate Grom: My time growing up in the rural countryside, surrounded by nature, locked up in my imagination as a chid. The experiences of others, my own experiences. Literature, films, conversations overheard…All of these things were significant inspirations for the record.
MWN: Let me make sure to mention again that this album is class. I feel like it holds a lot of emotion and I love the way it flows and how your songs tell stories. So I'm curious as I suppose you wrote many songs- so how do you decide what songs make it on the record?
Kate Grom: Many thanks for your kind words and I do appreciate you listening. It was important for me to select songs that worked together well as a full body of work, as well as next to each other, sort of like a good playlist. There has to be the right balance of highs & lows. There were some songs that did not make it onto the record because I did not feel they worked well with the majority of tracks.
MWN: To wrap things up once again thanks so much for taking the time to answer these questions. Lastly, is there anything you guys would like to say to the people who are going to be reading this interview?
Kate Grom: You are very welcome, thank you for the great questions. I would love to invite readers to visit my website, www.kategrom.com, as well as find me on Spotify and give me a like/follow! On my website readers can find my latest Christmas release and music video – my classic-americana cover of "All I Want for Christmas is You". The album "Heroine" is available on all platforms so I hope they will check it out. Finally, wishing all a very Merry Christmas & Happy Holidays! Warm Regards.
MWN: Happy Holidays! Thank You!
Interview By: Maria Limon
****