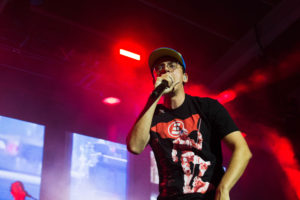 As the lights went down just to conduct a sound check, even then the energy could not be matched. Logic would be performing in his hometown for the second time in the past month and yet it was a homecoming like he hadn't been home in years. Maryland native, Logic, filled the outdoor pavilion, Pier Six Pavilion in Baltimore, Maryland on August 10th. The crowd with fans all ages and they were a crowd hard to beat.
Opening for Logic on the Everybody tour was Joey Bada$$. He brought fire to the stage pumping up the crowd a little bit more each song. He was draped with an American flag pieced together by different bandanas. He kept the crowd going through his entire set. With his set coming to a close, he continued to hype the crowd for who they all had been waiting for, Logic.
The chanting for Logic began and he shortly followed opening up with his song, Hallelujah. The band and DJ were jumping around and the large LCDs were filled of colors. Jumping back and forth with a grin, Logic looked out on the sea of people. Throughout his entire set there wasn't one beat missed. He kept the crowd going with every rhyme, with every joke, every song. This homecoming was not to be missed. He called out some very important family members in the crowd, even his dad and his godmother. He included a bit of an intermission filled of Mario Kart with one of his photographer's where he kept his winning streak on the tour. Following with his songs like Black Spiderman and Flexicution getting the crowd back to the energy they started with.  Later into his set, he brought down the energy with his radio hit, "1-800-273-8255." He called for cellphones and lighters up and the crowd screamed every word along with him. To close out the night, he brought out a young fan to help him rap, Gang Related. Neither of them missed a beat.
Logic puts on an incredible show, keeping his audience with him along for the ride. With the incredible visuals behind the band and DJ and the smile on Logic's face for the entire show, there wasn't a bored face in the crowd. Logic had no back track, just his raps. He had amazing energy that cannot be mimicked. Check out our photos from that nights gig.
Joey Bad$$
Coverage By: Allie Crump |Instagram: @alliexcrump |Exclusively for @Music, Why Not! – All Rights Reserved-
****