MWN: Hiya. Thanks so much for chatting with us. Let's jump right into talking your latest release "Winter" can you tell me a bit more about the song? And what it meant to you as an artist to release this?
Luke Buck: I originally wrote this song a couple years ago, around the same time time I wrote "California" from my last EP actually.  It was during the period of time when I actually got back together with my ex after the terrible break-up that I wrote about in my first album Dark Matter.  She was off sailing the Mediterranean singing and dancing on a cruise ship again, and I was still back in our 2 bedroom apartment in Park Slope, Brooklyn.  "California" was the love song I wanted to sit down and write, something slow-dancy and loving (I always pictured being in high school at the dance during this song, slow dancing with your arms out as far as possible because everyone is so awkward still), but  "Winter" was the song that captured more of my actual thought process at the time.  The daylight hours were so short and I was up in my 4th floor apartment overlooking 9th street so I was constantly hearing and seeing the hustle and bustle below at the subway and bus stop.  How did I get back here, I would think. Why did I believe I could trust this person again?  My favorite line is "I'm not getting any wiser, I'm just getting older / And you'd think that by now I'd have learned something but I can't get you off of my mind."  That pretty much encompassed the song for me while I was writing it.  All that to a simple slightly syncopated piano part.  Then that song sat on a shelf (much like my ambitions in music) until the fateful break-up that made me decide to have faith in myself and follow my passions instead of acquiescing and putting someone else first.
It wasn't until I released my second EP All These Things and the temperature dropped that I remembered this song, just in time for winter.  I was in a similar place as when I wrote the song, except this time it was a new love interest that had just moved far away and half of my band left the city on top of it as well.  With all of these people leaving all around me, it was hard not to feel abandoned and left behind. From all of that, the song took on a new shape and meaning for me.  I've self-publishing everything so I'm figuring a lot out as I go, but one thing seemed important and that was to keep the ball rolling.  I called in a favor with my friends over at M&I studios in Hell's Kitchen and got Jed Nimitz (bass) and Rob Mitzner (drums) into the live room with me and we laid down the groundwork for the song in one 2-hour session.  Then I brought in a old friend of mine from home Cass McSparin for back up vocals and the last thing we recorded was Michael Irwin on trumpet.  The trumpet was a new addition to the song, and very much needed to put the song where I wanted it.  I think it adds such a classic element to the song, and at the same time gives it such a warm emotion that juxtaposes pretty nicely with the cold wintery theme.  Everything just came together for this tune and were were able to get it done in a pretty short amount of time.  It's sort of amazing how something can just come together like that and still sound raw and polished at the same time.
MWN: What influenced you to start making music?
Luke Buck: I started playing saxophone in elementary school and everything sort of just expanded from there.  I figured out five years in that saxophone probably wasn't my favorite instrument and I wanted to impress a girl (of course I did) so I picked up guitar.  Also, how else was I going to learn to play all the songs I was listening to on the radio in the late 90s?  It was a really fun time for music, I think.  I learned every Radiohead, Counting Crows, and Weezer song I could over the course of my high school freshman summer and suddenly as a sophomore I could play guitar.  I loved it so much I forgot all about impressing that girl.
I didn't start playing piano until I was 25.  I had always wanted to learn piano since most of my favorite songs were so piano centric, and I was finally an adult (sort of) with a real (sort of) job so I bought my first keyboard. I would play from the time I got home from work until the sun was way below the horizon, turning all of the songs I learned on guitar into piano songs.  I was so engrossed in this and obsessed that every day would always end with the only light in my room being the candle on top of the piano I'd light instead of standing up to turn the light switch on! Of course I would stand up to refill my whiskey glass but turning on the light was just too much.  Sad songs are way better by candle light anyway 🙂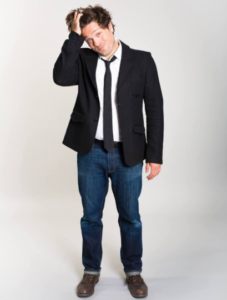 MWN: I know a lot of emotion goes into the making of any sort of art. For the recent music that you have been making have you discovered anything new about yourself as an artist?
Luke Buck: I've discovered how easy it is to doubt my instincts and second guess myself.  I work so much better and more confidently when there are other people involved in the process that I can bounce ideas off of and can help me ease my mind, even if it's just getting someone's initial reaction to a piece I've written.  It's something I'm working to fix, but I do really enjoy getting others involved in the process, and it's always useful to get another set of ears in the mix.
MWN: So you are from Brooklyn. We are all aware of the immense influence bands from NY have had on music- even up to now. So what bands did you look up to in the beginning of the band? Have they changed?
Luke Buck: New York has this indie vortex feeling to it.  I think it's the way people live here, there's always something to do or new place to check out.  It's kind of ironic that the city is run by such big, wealthy companies and yet it has such an independant scene for artists, filmmakers and musicians. But something about New York City makes anything seem possible and attainable.  You could be playing at an open mic and suddenly someone who has some amazing connection walks in off the street just for a drink, sees you play, and then you have a new opportunity.  It's mind boggling.  It's also a city of a lot of talent and a lot of competition so it's pretty disheartening at times.
The bands I look up to are still the same bands I had always followed since high school or college; Radiohead, Counting Crows, Weezer, and Damien Rice.  Radiohead specifically really influenced me.  Hearing Thom Yorke switch back and forth between guitar and piano really motivated me to continue to learn as many instruments as I could.  Norah Jones also was a big influence on me.  I had met her a handful of times and saw her play around the city. She was super sweet and friendly, and when I mentioned I was learning piano but had no idea how I would ever play like I just heard her play, she only had words of encouragement to give.  That was huge for me to hear; just keep going and it'll all make sense. And there she was up on stage switching back and forth between piano and guitar.  It was all really inspiring.
I took this encouragement and started applying it to Open Mics all around the city, specifically Caffe Vivaldi in the Village.  Monday nights at Vivaldi became a holiday for me.  I met so many singer-songwriters better than me trying to break out onto the scene it was a little disheartening, but I was up there getting my chops and becoming comfortable playing with my heart on my sleeve on stage.  I would follow their examples, learn from their successes and try to apply that to me and my music. I made a lot of friends there as well, specifically my long time bandmate, Per Ohrstrom.  He asked me to play in this band he was forming.  We ended up calling ourselves Per Party of Six and I learned so much from following his example and learning how to play with other people and listen to what they're playing to see where I fit instead of just drowning everyone out and playing what I wanted.  That was probably the hardest lesson but the ultimately most important.
MWN: Are there any new bands you are really into that you recommend to our readers?
Luke Buck: I love that Weezer is making a comeback and switching up their formula.  Rivers Cuomo writes such catchy melodies in such a interesting way it's really amazing to me.  And Radiohead is still coming out with great songs and still changing their formula every time for something fresh.
As for new bands, I'm really digging Yeasayer ever since I saw them at BRICK at the Prospect Park bandshell, and I've had Portugal. The Man's "Feel It Still" and Bastille's "World Gone Mad" stuck in my head for a month now.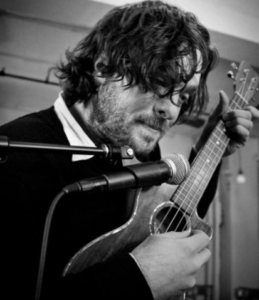 MWN: Let's jump into some fun fire round questions. Alright first one what is your favorite love song?
Luke Buck: Oh man, what constitutes a love song?  How about "Just Like Heaven" by the Cure.  Or maybe "Cut Here" by The Cure.  That song always gets stuck in my head. But those are sad…
MWN: Favorite sad song?
Luke Buck: "Videotape" by Radiohead
MWN: Dream stage to play?
Luke Buck: I hear great things about the Beacon Theater…
MWN: First album you ever bought?
Luke Buck: Counting Crows "August and Everything After" on cassette tape.  And at the same time I bought Hank Williams Jr's Greatest Hits because my dad convinced me he was the guy that sang "The Devil Went Down To Georgia" and I LOVED that song.
MWN: First recollection of live music?
Luke Buck: Either Lynyrd Skynard at Musikfest in Bethlehem PA or Herman's Hermits, I can't remember which was first!
MWN: Favorite festival to play?
Luke Buck: I would love to play Musikfest in Bethlehem, PA.  I've seen so many shows and bands there, it's a venue I've always wanted to play!
MWN: To wrap things up once again thanks so much for taking the time to answer these questions. Lastly, is there anything you guys would like to say to the people who are going to be reading this interview?
Luke Buck: Have a little faith in yourself.  It's never too late, and you're never too old. And thanks!
Interview By: Maria Limon | @shotbylimon
****
Artist Links: Official Website | Facebook | Instagram |Twitter | iTunes |