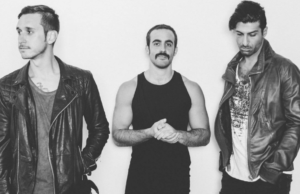 MWN: Hello! Thank you so much for taking the time to answer these questions. Alright lets get started by diving into the roots of the band. How does being from Chicago influence your music?
MONAKR: As producers it's undeniable that there's Chicago Soul, House and R&B to draw upon for inspiration. But I think Chicago has more to do with our attitude than informing our sound . We don't expect to get handed anything. We just like making music.
MWN: Any bands you recommend to our readers?
MONAKR:  Asgeir, Juniore
MWN: (For Mathew Santos): Tell me about your vocal training and how you came to be such an incredible vocalist. How did you come to find vocals were your calling?
MONAKR: First off, thank you for the kind words.  I didn't receive much formal vocal training. I basically started singing along with my favorite singers as a kid, like Michael Jackson, Boyz II Men, Ella Fitzgerald, Martin Sexton, Bjork, Radiohead, and Jeff Buckley. Then in college, I basically just learned how to maintain good vocal health through a course called Techniques in Singing.  I'm not really sure if there was ever a moment when I realized it was my calling, I always just felt inclined to express myself vocally and stuck with it.
MWN: How do you bring inspiration from 'Hey Champ' into MONAKR's music?
MONAKR: Hey Champ was making electronic and dance songs, but it was pop music at the end of the day. We started experimenting with other sounds and that led us on a path towards MONAKR. It's still pop music, just with a different feel.
MWN: What artists do you look to for inspiration?
MONAKR: This is such a problematic question because the mere act of creation is inspiring, from street art to poetry. It's everywhere. MONAKR is more driven by emotion and other media than previous projects.
MWN: What are your goals for the next year in terms of music?
MONAKR: To write more. collaborate with people who inspire us, and take more risks.  'Ophelia" has incredible potential to big a big hit. What headspace were you in when you were writing it?   There is ebb and flow in every relationship, which has already been the subject of 100,000 songs. We wanted to celebrate the poetry that exists in this aspect of love; why not go right to Shakespeare's most torrid affair?

MWN: A few random questions coming at ya. Alright so do you remember the first record you ever bought?
MONAKR: Probably Siamese Dream by Smashing Pumpkins
MWN: First recollection of live music?
MONAKR: My parents bought a piano when I was 5 and I just sat there and wrote songs with two fingers – I was hooked day one. I wrote music before I really listened to live music.
MWN: Favorite song to listen to when you are sad?
MONAKR: Oh man, I've spent way too much time listening to sad songs. .Casimir Pulaski Day or Fourth of July by Sufjan Stevens… or just the entire XO album by Elliott Smith
MWN: Favorite love song?
MONAKR: I Fall in Love Too Easily by Chet Baker… pretty sure Jonathan would chime in here with Chicago's "You're My Inspiration"
MWN: Lastly to wrap things up. Once more thank you so much. One last questions for you guys. Is there anything you'd like to say to the people who support your music?
MONAKR: Yes, thank you. For listening and for being patient. We have more stuff coming.