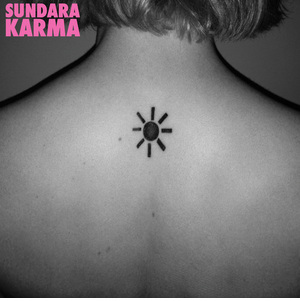 Sundara Karma: a band with an odd name that will soon be known for more than just that. This new band has caught the attention of the music industry, with their distinctive indie style and unique perception of alternative music. Starting when they were teenagers, vocalist and guitarist Oscar Lulu, drummer Haydn Evans, guitarist Ally Baty, and bass player Dom Cordell have worked themselves up in a phenomenal way. With millions of views on Spotify and tens of thousands on Soundcloud, they have begun to form a loyal fan base and increase their ticket sales for their recent shows. "Sundara", coming from the Sanskrit word meaning "beautiful", and karma meaning…karma, reveals only the name and Hindu/Buddhist origin of the band. Oscar believes that the name reflects something within all of them. They don't consider themselves religiously Buddhists, but simply that they connect their mentality with the Buddhist philosophy. They've gone through their journey with other names such as Band Jaxx and Skully Wax, yet Sundara Karma has stuck with them since they were 14 and still continues to bring meaning to both them and their band, expressing their boldness and brightness within their work.
They have been influenced by numerous bands such as the Beach Boys and Bruce Springsteen, and Pink Floyd. Some songs, especially their older ones, have a happy vibe to them, but as they have progressed their songs have become slightly darker and more ambiguous. Their current tour around the United Kingdom has caused sparks of excitement from their loyal fan base to their new supporters. Their songs are not your average indie songs. They provide a sense of heartfelt passion, while keeping an upbeat vibe. I could rant and spew out the impressive sound of the band, but all the proof is in their songs. Check out their newest single 'Flame' on Spotify for a rollercoaster incline of excitement and a new love for music.
Check out their new music video for the song "Loveblood" below.
Music, Why Not!- Your Dose of Music
December 14.2016
       Written By: Sara Rodriguez