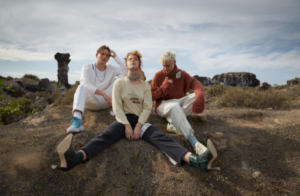 MWN: How does being from Copenhagen influence your music?
Off Bloom: We have a lot of friends who make music in Copenhagen as well. They are super inspiring because they always push us to be better. It's healthy competition.
MWN: Any other bands you can recommend to our readers?
Off Bloom: Well the Copenhagen scene with all our friends is really on fire right now. So: Vera, Vasco, Goss, Soleima, School of X, Liss. Go check em out!
MWN: So your 5-track EP titled "Lover Like Me." Is out now. What can people expect from it?
Off  Bloom: Expect the unexpected. This EP is a representation of our experiences, encounters and feelings over the past few months. Its about love, sex, frustration, intoxication and just being human.
MWN: I really like the song "Golden Dreams." It sounds so well crafted! What was your creative process like for that song?
Off  Bloom: Thanks! Basically it was to try and get that feeling of letting loose and not taking yourself too seriously into a song. When you get caught up in your own life drama its important to go out with your mates and just have fun. We also just wanted to make an absolute banger!
MWN: In general how do you guys approach making music? In the recording of this last EP did you guys discover anything about the band or your individual sound as musicians that you might have not noticed before?
Off Bloom: For us making music is about honesty. Honesty towards yourself and the vibe when entering the studio. If you are too caught up in trying to sound a certain way or not trust what comes out of you then it will never work. We are also always trying to develop and to keep learning and get better. The only way to do that is to work your arse off so in that way we are constantly discovering new things about each other and our sound!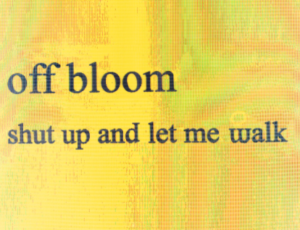 MWN: A few random questions coming at ya. Alright so do you remember the first record you ever bought?
Off  Bloom: Alex: It was either Rage Against The Machine – The Battle of Los Angeles or Eye Q. Cant remember…
Mette: Spice Girls – Spice
Mads: either Aqua, Nirvana, Eye Q or Metallica. All the good stuff…
MWN: Ha the Spice Girls! Love that. Alright, what was the first concert you remember attending?
Mads: Kira and Kindred Spirits
MWN: Good Ones! What about your favorite song to listen to when you are sad?
Off  Bloom: 
Alex: The National – "Empire Line"
Mette: Adele – Back Catalogue
Mads: The Beatles – "While My Guitar Gently Weeps"
MWN: "While My Guitar Gently Weeps" totally gets me in my feels haha. Alright what about your favorite love song?
Off Bloom:
Alex: Cat Stevens – "Father and Son." For the love between a father and son. So beautiful.
Mette: The Beatles – "Back Catalogue"
Mads: Nick Cave – "The Ship Song"
MWN: Love that song by Cat Stevens. Lastly to wrap things up. Once more thank you so much. One last questions for you guys. Is there anything you'd like to say to the people who support your music?
Off Bloom:  Off Bloom wanna tell you welcome to the Bloominati fam!