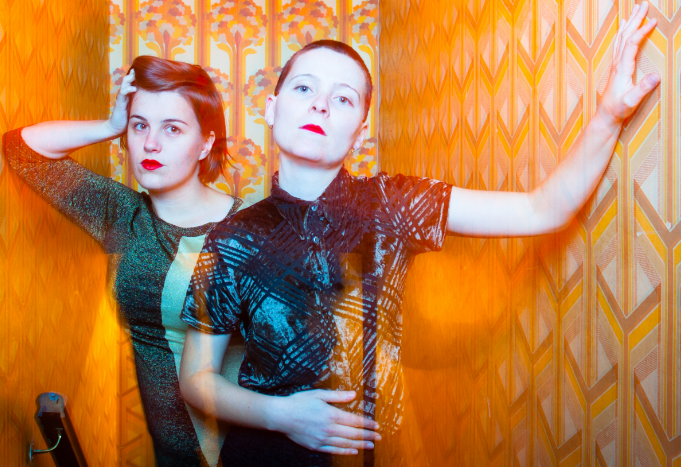 Music, Why Not! Had the chance to ask Australian folk/pop band formed in Melbourne, Australia known as Oh Pep! a couple of questions about their latest album, favorite gigs, songwriting process, and more. The due known as Oh Pep! Was formed by Olivia Hally and Pepita Emmerichs. Their songs are enchanting taking you on a journey through their lives. They have just the right amount of folk and pop to make for some great catchy tunes that most importantly mean something. It is a breath of fresh to air to talk to artists that care so much about their art, aren't afraid of being bold-with their sound- experimenting with various mixings, and lastly that enjoy making music as much as we love listening to it.
MWN: Hello guys thank you so much for taking the time to answer our questions. We are so excited. Alrighty! Lets jump to right into. Why did you guys decided to name the group Oh Pep!
Oh Pep!: Hi there, Pepi here. Olivia- Oh, Pepita- Pep, ! (!)
MWN: Well that makes so much sense haha. So, I know you guys have been touring- how does touring in the U.S differ than touring in other places? Are the crowds any different?
Oh Pep!: There is a great culture of music and going out to see new things in the U.S. We really appreciate that and one can really feed off the enthusiasm of crowds there when you're playing. Though this is not limited to the U.S. it is really tangible there, which is a great feeling!
MWN: Speaking of feelings. I feel like the latest record released seems to have grown in sound a bit. It still has those components of folk, but it seems a bit grander including several components of pop music. Was this something you meant to do- or did it just kind of evolve on its own?
Oh Pep!: We definitely thought everything through on Stadium Cake. To us, it felt like we were writing pop songs since the beginning, so it only felt natural to jump in to a lush, beats driven sound when making our debut. Though when we're thinking of music we don't think in terms of genre, just evolving in to what feels and sounds good to us.  At the time that's what was appealing to us. Especially as we had the time to multi track everything and create a big sound.
MWN: I love how you guys knew exactly what you wanted for the album. I know songs can sometimes come from just "jam sessions" or other times the person writing the songs knows exactly what they want to do with it. How was the process for the making of Stadium Cake?

Oh Pep!: Some songs evolved from the smallest idea that turned in to a jam, that turned in to a song. For example Only Everyone, which started as a pick me up country song (intended more as a joke than anything serious)…but we liked the lyrics so much that we put different chords behind them and jammed on the instrumental and  eventually the song was born! Most songs were written first and the full band arrangements made second though.
MWN: The amount of work put in this record is incredible and one call tell in how well it flows both emotionally and technically. So what did the release of Stadium Cake back in June of 2016 mean to you guys?
Oh Pep!: The outcome of seven years working together as a band, playing shows and all our musical experience/knowledge at that point in time being released in to the world.
MWN: Putting out new music means getting it to perform it live! Thus far what would you guys say has been one of your favorite gigs and why?
Oh Pep!: No favorite gig in particular… but when you spot people in the crowd singing along or dancing, those become personal favorites. It's such a great feeling!
MWN: So when writing new material do you guys pull from personal experience or do you drift more into others worlds?
Oh Pep!: A bit of both. But even you are writing about someone else's story, you end up pulling from your own personal experience…so in a way maybe it's all personal!
MWN: That is very true. I love that about music it is truly personal to an specific persons lives yet it can resonate with a complete stranger. I think it's time for some fire round questions. What would you guys say your top three favorite songs of all time are?
Oh Pep!: Can't pick favorites…they change daily! Right now a big song for me is No need To Argue by The Cranberries.
MWN: While all songs have an intimate connection with the artist, some happen to resonate more than others. With this in mind- what is you guys favorite song to perform live that you have released?
Oh Pep!: Tea, Milk and Honey. Get's me every time.
MWN:  As we finish the interview what is something you would like to tell all your fans/ supporters?
Oh Pep!: what makes you happy!
MWN: Thank you guys so much for answering our questions. Hope to hear more music soon. You can catch Oh Pep! on tour in a city near you. To learn more about the band and what they are up to check out their social media link which will be posted below! Till next time!
OH PEP! SOCIAL MEDIA LINKS!
Official Site
iTunes
Facebook
Instagram
Twitter
YouTube