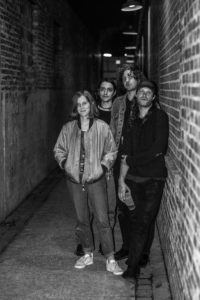 I'd say music is at a very vulnerable place right now. Rock and roll to be a little more specific gets left behind by the media all the time. Yet, everyday I seem to discover more and more amazing guitar bands from all walks of life. Recently I came across a band  from New York city known as QTY (pronounced Q.T.Y). You see I have noticed that when people hear a band is from NY they always assume they are a knock off from bands like the Ramones, The Strokes, The Velvet Underground, Sonic Youth, etc. It is such an easy way out, to just compare every band that emerges from NY to these iconic artist – when really they sound nothing like them and have unique things to offer. You see if you were to ask me to describe QTY in five words. I would tell you they are: talented (duh!), honest, charming, rebellious, and melodious. With this in mind when I heard they were on tour supporting Bad Suns and were going to be performing at the Mohawk in Austin, TX I immediately knew I had to sit and chat with them about their music. I caught up with Alex, Dan, Alan, and Peter at a bar inside the Mohawk in downtown Austin, and really got to know what they are all about. And let me just tell you, if by the end of this interview you don't fall in love with them – then there is something seriously wrong with you, because they are some of the most humble and charming people I have ever met and this interview is probably one of my favorite ones. So let's dive right into it.
MWN : Well hello guys! Thanks so much for taking the time to sit and chat with us! Your set was incredible. The chemistry between all of you on stage really shines through.  I'm guessing you guys have known each other for quite some time. So how did you guys meet?
Alex: I've known Alan for years.
Alan: [To Alex] Yeah, we use to be neighbors.
Alex: Dan and I have known each other for very long time. Since he moved back to the city. Peter and Dan have been in bands together forever and then we met Alan in England while he was on tour with another band.
Dan: We stole him.
Alan: They did it was tragic (laughs).
MWN: Is it true that you (Alex) and Dan meet over ice cream?
Dan: Yes, that is very true.
MWN: What flavor was it?
Dan: That remains a mystery.
MWN: Hahaha, well you guys just played an awesome set. How has this tour been so far.
Dan: Tiring.
Alan: Exciting.
Alex: Both!
MWN: Your headlining tour is coming up soon?
Dan: Yes we have a headlining tour right after this one. This tour ends in Las Vegas and the very next day our headlining tour starts.
Alan: It fits in nicely because our record release is December 10th in NY.
MWN: Were you guys are from right?
Alan: Yeah!
Dan: It has all accumulated to the point that we just want people to hear it. We are very excited. I mean it is our first album. And we have all been in bands forever. Alan is like the newest member, but he has been in like a million hardworking bands.
Alex: Touring bands.
Dan: Now we are a little family unit that is traveling the country together!
MWN: Would you say this album accumulated all your life experiences?
Dan and Alex: Yes!
MWN: Any favorite cities or moments in this tour so far?
Dan: Austin. Actually this moment right now.
MWN: Awww haha that's awesome.
Alex: We do really love Austin.
Alan: Austin has been good to us.
Dan: It is our second home as a band.
MWN: You guys were here for SXSW right?
Dan: Yes we were.
Alex: I love SXSW. We made a sister band. You know that band Dreamwife?
MWN: Yes I do!
Dan: We had like ten shows were either we were opening for them or they were opening for us. We just got along really well.
MWN: Those must have been awesome show. I can see how your sound with them compliments each other really nicely.
Alex: They are very sweet.
MWN (Morgan): British bands are the best! haha  Let's jump into some fun questions. What is your dream stage?
Alex and Dan: Madison Square Garden.
Where did the name QTY come from?
Alex: The clementine things. You know those cuties?
Dan: Yeah, they're orange and have smiley faces and I use to call Alex a cutie because she has red hair.
Alex: We were with a friend at a bar one night and she said how she wanted to name a band QTY and we all agreed it was a cool fucking name.
Dan: Oh yeah, it was Romy from The xx?
Alex: It was. That's how we got our name.
Dan: You guys like the name?
MWN: Yeah it's nice and short and catchy! Now coming from NY I bet you guys get compared to a lot of bands? But I am curious as to how you would describe your sound?
Dan: I'll tell you what I always say. I say it's a guitar driven, lyrical, rock music with pop sensibilities.
MWN: Wow that's intense, but it's a good description. Well thanks so much for taking the time to do this interview. It was nice how it just rolled out into a good conversation!
Alex and Alan: Yeah for sure. Thanks, it was a blast.
Dan: One of my favorite interviews!
Interview By: Maria Limon| Photos By: Abby Stanford
****
****
Band Links: Official Website | Facebook | Instagram | Twitter | Purchase Album/ Pre -Order