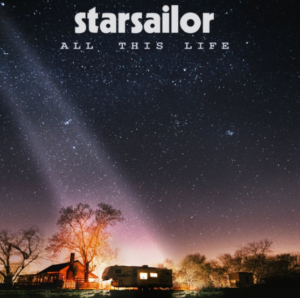 Starsailor may have been on the scene for awhile, but they are 100% worth a second glance.They recently released their new album, All This Life, in early September. This is the band's first studio album since 2009, and it doesn't disappoint.
Their lyrics can sing any pain away. They have an aw about them only expert songwriters can perfect.  James Walsh, lead singer of Starsailor, has had plenty of experience to know his way around writing a song.
Speaking of songs, I have a few standout favorites on the album. They are "Take a Little Time," "Best of Me" and "No One Else." Each song has something different to offer. Their album is a new refresher to their older-released music. They really outdid themselves this time around.
James Stelfox on the bass grounds each song. The steady baseline brings the album together to make it complete. Ben Byrne on the drums keeps it interesting through the album. Drums are always the first thing I notice when listening to an album, and I wasn't disappointed. Barry Westhead, keyboardist, absolutely kills it with each note. One of my favorite aspects to a song is if it has keys or not. For me personally, it brings a more elegant approach to a song. I commend him for what he has done with each track.
Overall, the album is worth a listen. Put it on when you drive around, while your studying, or maybe when you want to listen to a well-rounded album. It's worth the time.
Check them out on the rest of their UK Headline Tour:
19th Oct – Liverpool, Academy
21st Oct – Newcastle, Boiler Shop
22nd Oct – Glasgow, O2 ABC
24th Oct – Manchester, O2 Ritz
25th Oct – Brighton, Concorde 2
26th Oct – London, KOKO
***
 By: Allison Wyrsch | Exclusively for @Music, Why Not! – All Rights Reserved –