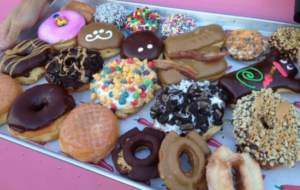 They say full stomach happy heart, well let me just tell you, at SXSW the food is great. Whether you are looking for a delicious greasy and huge pizza slice or for a healthy top class buffet you won't be disappointed. There are several pizza stops you can make all through 6th street, however, one of the best for sure is Pizzeria Paparazzi. Warning! This pizza is not for the faint of hear or stomach, but if you are in for an awesome slice of pizza that will scare your diet away this is the place to go.
Another food stop you will want to make while at SXSW is Voodoo Doughnuts. This is not only where you will get to try unique and delicious doughnuts, buy the place itself is pretty cool looking. It is an awesome place to rest and it's opened 24 hrs (beware though, it gets crazy busy at night, you want to get there early).
However, if you more on the healthy side several of the hotels in the SXSW area offer great buffets. The Omni hotel was one of my favorite buffest, it has a really good and healthy variety for breakfast, lunch and dinner. Another great buffest, especially for breakfast, is the Courtyard Marriott hotel. Let me rephrase that, their breakfast buffet was great!
Now let's get to what we all want to read about, yes you guessed it, the drinks! Let me put it this way, 6th street and the surrounding street are filled with bars. You will find all kinds of beers, ciders, wine, liquor and so on. If you think SXSW offers great variety of food, wait till you get to walk through their bars.
Written By: Brenda Tezpa exclusively for @ Music, Why Not! -All Rights Reserved- March 01, 2017