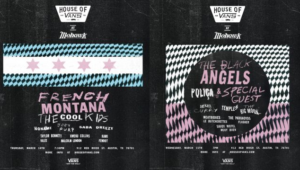 DAY ONE- Wednesday March 15, 2017:
This year there there was another legendary line up the famous House of Vans hosted at The Mohawk during this years SXSW. The line up included acts like French Montana,  The Big Moon, The Cool Kids, The Temples, and more. The House of Vans took over two days at the music festival. Each night providing the excited festival goers with some pretty cool music.
Night One: The first nights turn out was more than expected. Lines of both badge holders and hopeful music wristband goers stood outside awaiting for the doors to open and the groovy music to begin. On Wednesday  March 15, The Black Angels, Poliça, Denzel Curry, Temples, and the Big Moon took the stage. The British won over the hearts of everyone in the room. The Temples performance was as always eccentric. They sang some of their smash hits including "Strange or Be Forgotten." The crowd was pretty excited all throughout their performance. The Big Moon a relatively new band emerging from London played a pretty rad show. The all girl rock band definitely stood out playing a really catchy tune entitled "Formidable." People seemed to be pretty excited about them.
As the night went on the most anticipated of that night took the stage. The one and only The Black Angels. It was awesome to finally see them perform live. People went mad over their performance. They sang songs such as " Don't Play Guns' and "You Mean Dead." They have such a dope sage presence. Maybe it  was the vibe, but seeing such passionate artist hit the stage hard at like midnight is something I would never take back seeing.
****
DAY TWO- Thursday March 16, 2017.
Thursday rolled around quickly. Once again the line outside The House of Vans was pretty large- I'd even say a bit more than Wednesdays night. This night around artist playing were French Montana, The Cool Kids, Saba, Dreezy, and other awesome artist. French Montana was of course the most anticipated artist to hit the stage that night. He went on to play pretty light, but once he hit that stage everyone in the crowd revived. It gets better- He not only performed with ASAP Ferg, but he also brought out the one and only ASAP Rocky. There was a lot of hands in the air and a lot of excited people trying to get onto the stage. It was by far one of the best performances that night.The Cool Kids also brought together a pretty big crowd of hip hop fans. Overall it was a pretty cool night of live music.
Written By: Maria Limon exclusively for @ Music, Why Not! -All Rights Reserved- March 20, 2017