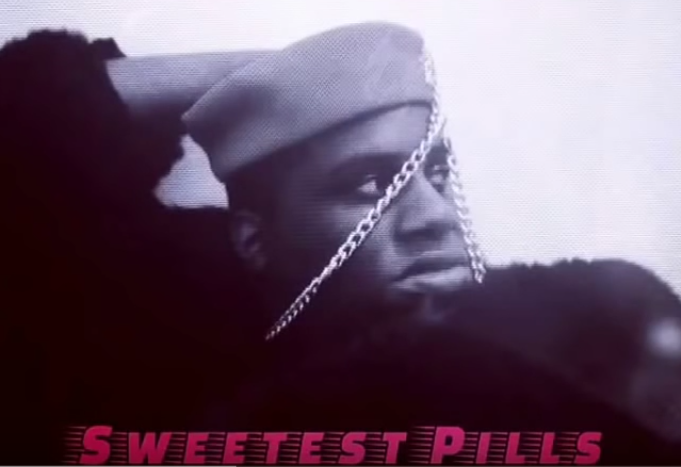 Music,Why Not! got a chance to chat with upcoming artist Teddy Mykaels. His music totally give us 80's vibes. It has a contagious groove to it that is infectious enough to get you grooving. There is nothing better in this world than a song with a contagious chorus that makes you want to dance. His new song Sweetest Pills does exactly just that. His witty catchy lyrics and cool beats make this the perfect tune to dance around your room with your best friends. There is something timeless about 80's music. It is relevant enough that the revolution music underwent during that time period is still inspiring great artist today. Music that takes time and is nurtured in a way by its creator is worth chatting about. Sweetest Pills  is everything a good pop song should be! So check out our interview with the artiste behind this smashing tune and check out his music- it is definitely worth a listen!
MWN: Hello thank you so much for taking the time to speak with Music, Why Not! Alright, so let's get started! What would you say your musical influences currently are?
Teddy Mykaels: Oh it's my absolute pleasure . Thank you so much for having me. Currently my major music influences would have to be nirvana ,  ABBA , Blondie , Prince and madonna .  Most of my influences and the way I write stems from music of the 80s!
MWN: Is there anything in your childhood or anyone that influenced you to be a musician?
Teddy Mykaels:  yes many things influenced me as a child to pursue music . As a kid I was influenced heavily by Britney Spears , Christina Aguilera and my favorite band , S club 7. Watching them as a kid I knew that I wanted to be in their place one day and some day. I began singing and dancing and mimicking all of their songs and  dance moves in front of my TV my entire childhood . 
MWN: Your single Sweetest Pills. Can you tell me a bit more about it? What is the back story to the song?
Teddy Mykaels: Well "sweetest pills" is the lead single to my debut studio album . It's a pop song with a alternative twist . The song is about l loving or crushing on someone who will never love you back . When writing the song I wanted the lyrics to be relatable but yet catchy .  A lot of my favorite 80s artists influenced the track .
MWN: What I love about this song is that it has an 80's pop vibe to it? Were you influenced by the 80's at all?
Teddy Mykaels: Yes I'm very much heavily influenced by the 80s even though I wasn't born until the 90s. Sometimes I wish I was born in a different time just to experience the 80s and the glamour of it all. The sounds , the looks , the overall electricity of the era is everything I'm about as a artist.
MWN: Speaking of the 80's what is one of your favorite 80's pop songs?
Teddy Mykaels: that's a cool question but a hard one . But I would have to say my all time favorite song of the 80s would have to be "express yourself" by madonna .
MWN: When you write music would you say lyric wise you pull more from personal experience or fictional?
Teddy Mykaels: as a songwriter I tend to pull more from my personal experiences because I write from the heart . I only know how to write the truth and I let the truth shine bright throughout my music .
MWN: I know your new album is set to be released soon. What can you tell us about it?
Teddy Mykaels: Yes my debut album will be out sometime this year , it's absolutely my baby. I've been writing and brainstorming the album for 10 years now and the album will take you into a magical world I lived in called "Tropical paradise" .  Expect the unexpected on this record.
MWN: What did you discover about yourself as a musician in the process of this new album?
Teddy Mykaels: I discovered that I'm actually more gifted in songwriting than I give myself credit for . I also learned that I don't need to make pop music that is one dimensional . Create something that you're proud of even if it sounds off the wall
MWN: For me in life I look to John Lennon. He has been my inspiration ever since I was very little. Who would you say you look up to in life?
Teddy Mykaels: That's really awesome! I love John Lennon . He was out of this world and his music will never die . I would have to say madonna . Madonna is my biggest inspiration and who I look up to the most . Her career has crossed so many boundaries that I wish to cross as well . From her music to stage charisma , I inspire to be just as great as her one day.
Fire Round Questions!
MWN: Favorite love song?
Teddy Mykaels: My favorite love song would have to be "who's to say" by Vanessa Carlton. That song breaks my heart everytime (laughs) it's a love song about friendships. Everyone has to check out her record called "harmonium". So life changing.
MWN: Favorite album cover?
Teddy Mykaels:  My favorite album cover would have to be Aaliyah self titled last studio album! It's so iconic.
MWN: If you could share the stage with any artist dead or alive who would it be?
Teddy Mykaels: I would love to share a stage with Beyoncé or Michael Jackson!
MWN: Who is your dream producer to work with?
Teddy Mykaels: My dream producer to work with would have to be max Martin. He's such a huge innovator in pop music and most of the songs I love he has produced!
MWN: Lastly, Is there anything you would like to tell your supporters?
Teddy Mykaels: Thank you so much for having me and I enjoyed this interview. My favorite interview so far. I would love to tell my supporters and fans thank you so much for supporting me and downloading my single. Thanks for supporting me through thick and thin and I promise I won't let you down with this album! There's so much more to come. Love you all
MWN: Thank you so much for taking the time to answer our questions!