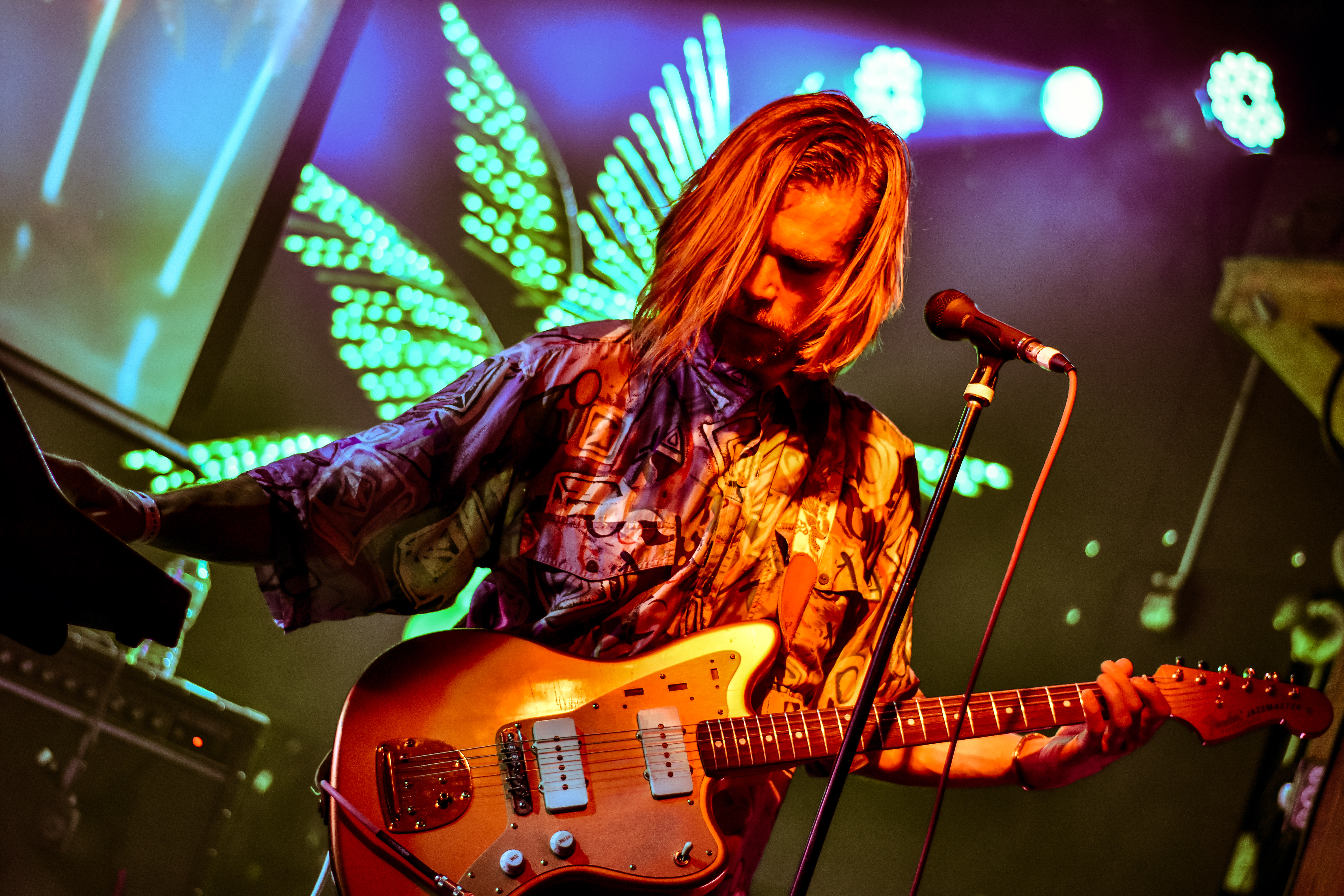 Jennifer from Music, Why Not! Caught up with Canadian alternative band known as the Darcys when they made their stop in Chicago. The Darcys are an art-rock duo who create songs stemming from their own interest in philosophy and modern studies. Their music is dance-able and energetic and the accompaniment of vibrant colors and an overall summer aesthetic summarizes their style and accents their latest album Centerfold.
MWN: I'm here with the lead singer of The Darcy's.
THE DARCYS: What's up? Hello, its Jason.
MWN: So my first question is… how did the band meet?
THE DARCYS: How did we meet? Well, Wes and I met a really long time ago… we were actually in a snowboarding lesson together and I think I fell and hit my head really hard that day.. And snowboarding is pretty hard especially when you're like 10. And yeah it turned it out like the next year we went to the same school and he had just gotten a drum kit, and I had told my parents that I hated playing piano. And they were like "you have to take a new instrument" I was like " I wanna learn guitar" and they're like "no! Guitar is too hard !" so I got put in Bass lessons. And yeah, we started our first little project and it was pretty casual. So yeah it was really early.
MWN: Yeah, I noticed your EP's are from 2012, 2013.
THE DARCYS: Yeah so like you know through high school we made a couple recordings and at one point we rented this recording console, and paid off the rental fee and sold CDs and we actually made money.
MWN: So it was all DIY basically?
THE DARCYS: Totally DIY in the beginning. That was kind of the fun of it and it wasn't serious in the beginning and it wasn't like "form this real band and do this real thing"  it was just "this is just fun and whatever" then we went off to different universities for a year and then ended up in the same place Halifax then we started playing covers in bars for beer and to meet ..
MWN: people…
THE DARCYS: Girls, and stuff haha.. And it was like fun and casual, but then the second we finished school we like, we were both pretty serious students, we were studying contemporary philosophy and it was super critical thinking, late nights, whatever.. We finished school, and had the band on the side and we were like "what now?" and we had a few songs that we just took all that critical thinking and applied it to the music and we did ourselves the record that year..
MWN: That leads me to my next question. I was reading about your duo and read that critics have described the both of you as Art Rock. Now that you've mentioned that both of you had studied philosophy and contemporary studies, do you believe that their description does justice to your band?
THE DARCYS: Yeah, I mean I definitely take that as a huge compliment. We always tried to subvert the tradition and formulas of pop music, rock music, and kind of whatever we were dabbling with at the time I think its harder done than said really. Like there are conventions within pop music now that we're moving towards a more commercial- like concept for the band. These things are in place for certain reasons, and I think that for us its more about re-inventing things on like a micro level than totally changing the entire game. But there's also a weird thing like when we were more in our, what people called our "rock phase" there were a couple records there where we were really pushing boundaries with our song structure and sound and i think that part of it was that we felt we were maybe a little bit better than it.
MWN: Than the pop scene?
THE DARCYS: Than the pop thing without actually ever trying it and once we started working on the songs for "Centerfold" we realized that it was gonna be maybe the biggest challenge that we'd ever seen..
MWN: To try to attempt it?
THE DARCYS: Yeah to try to participate with that type of aesthetic and kind of artistic approach while maintaining our personal sound.
MWN: Well yeah, you wanna stay true to your sound.
THE DARCYS: Exactly! We weren't going to do a cheap or crappy version of our band and make like ya know stupid pop songs. We wanted to make intelligent music still.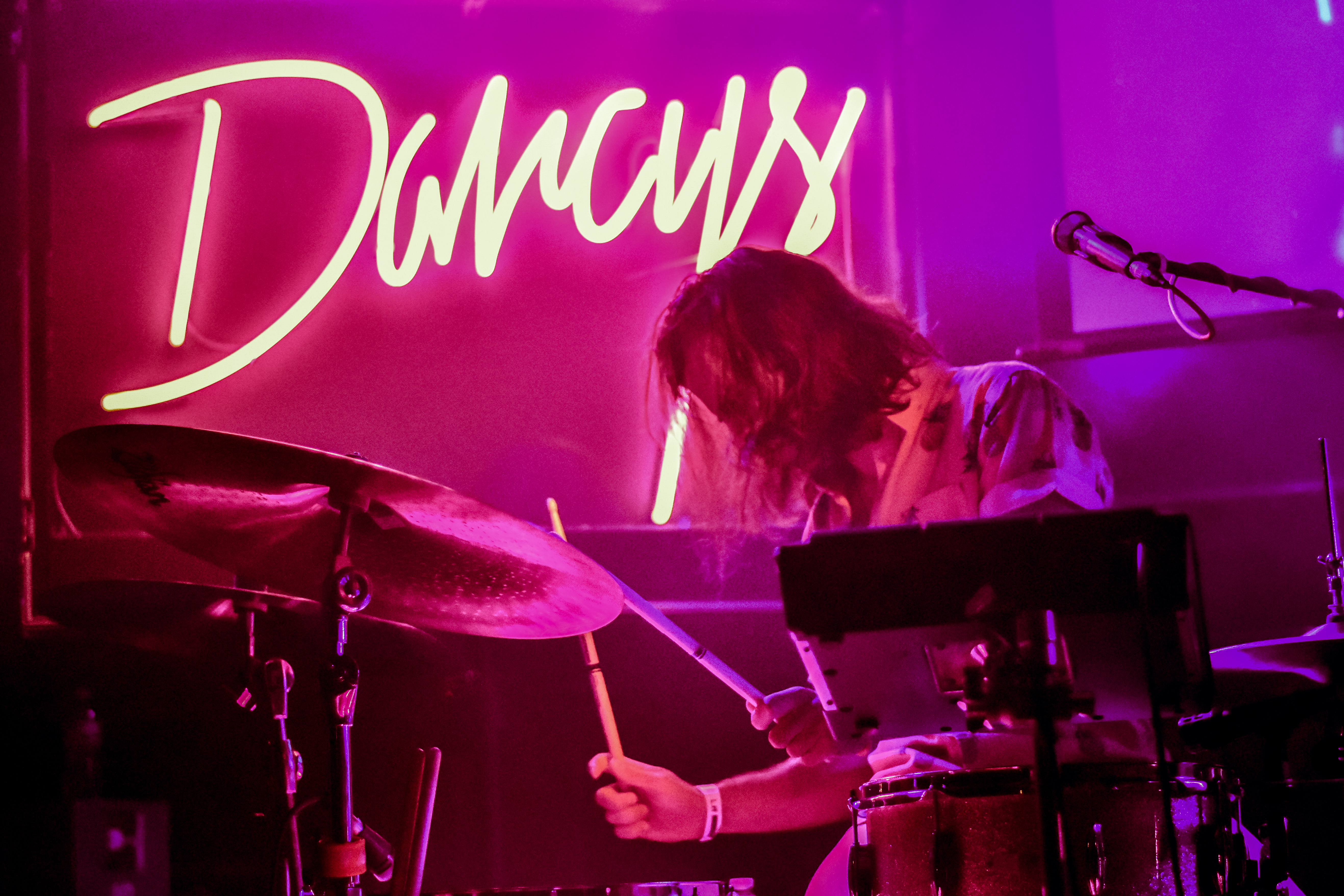 MWN: That's a good thing. It's refreshing. I guess like the only pop thing that I would consider would be your "All I Want For Christmas" cover which was well done by the way because it was different but still in a pop form because it's such a well known song. But you guys made it your version. Like I see a lot of bands, especially now that everyone is branching out into their own little sectors. Like a genre really doesn't exist anymore.
THE DARCYS: Yeah genres are totally dead. Which is so liberating and it so cool,  like when people say "what's your band like?"  you can't really answer that question.
MWN: Yeah, you'd just spew out some words.
THE DARCYS: I think it just encourages individuality which has become a thing since we've grown artistically and also just mature as humans. We become more in tune with who we really are and what we want, both individually and collectively. And with the Mariah Carey thing, it's just like it was my favorite song as a kid. And like whenever it's winter months and I'm at karaoke.. I sign up for that song because its freaking hilarious! Everyone loves it! So I was like yeah let's do a Christmas song. And yeah maybe it's a little cheesy and yeah maybe it's Mariah Carey or whatever but, it made us happy. We had fun doing it and it seemed like a lot of people who had heard it had a great time and so I don't see any like problem with that.
MWN: I definitely danced to it. It's a great pump up song.
THE DARCYS: Yeah! It was funny because when we learned it, it was pretty difficult. Like all the covers we do, we always tend to chose these difficult songs.
MWN: Yeah, and those ranges aren't exactly easy.
THE DARCYS:  Exactly! Like Mariah Carey, who can keep up with that? But, we finished our recording then we got this call, and a radio station wanted us to come in and do this live taping of it. And we were like "Oh my god." Like overnight we had to figure out how we were gonna perform it.
MWN: You have a pretty versatile voice. You tap into falsetto very easily, which I applaud you for, did you take voice lessons growing up? Or was it just like singing whatever was on the radio?
THE DARCYS: Not growing up. Actually my mom put me in voice lessons when I was like maybe 14 or 15 and they made me sing Backstreet's Back and I got through the lesson but I was like "I'm never going back" because I was like this 'angsty' teenager who likes ya know Grunge and rock music and I was like "I'm NOT gonna do that" and I just wish I had stuck with it because two years ago i met this vocal coach and I started working with him. It was David Dunbar in Toronto,  he helped me grow so much. Not necessarily in my falsetto because i had grown that myself, but just being able to take of myself.
MWN: oh yeah, you've got to stay healthy because of how often you use and strain your voice a lot.
THE DARCYS: It's the biggest challenge of touring with needing to be able to sing night after night. And ya know keep up with the partying too haha,
MWN: Isn't tomorrow your last show in the U.S?
THE DARCYS: Detroit tomorrow, then we have two amazing shows. One's in a barn kind of in the countryside.. About two hours from Toronto. Then we're playing in Ottawa then that's kind of it till we play WAYHOME festival.
MWN: So how's this tour been treating you so far?
THE DARCYS: It's been really good. It's kind of rare for us to tour in the Summer. It seems like we're usually out in like the "off months". So it's been an amazing mix of kind like really awesome shows that totally makes sense with our summery vibe. The palm trees and the neon and that it's actually really hot. And everyone is kind of like, because it's really early in the summer where everyone's getting excited about drinking on the patio and being outside, so the aesthetic cues that we're taking and the actual realities that people are living in right now are clicking and so its  making our shows just make a ton of sense. And we've had tons of opportunities to go on hikes and explore. Like when you drive to Portland, like we're from Canada so we want to explore the spaces of the places were we're playing shows.
MWN: So what'd you do today?
THE DARCYS: Today? Sadly, not much. We did get some delicious tacos at Big Star.
MWN: Ah, yeah Wicker Park is pretty cool
THE DARCYS: Yeah, you gotta get your little dose of Chicago.
MWN: Did you go to Stan's?
THE DARCYS: No! We passed by but didn't go in.
MWN: Aww no! They have this really cool square Rolling Stones donut right now.
THE DARCYS: Ugh! I should've gone in!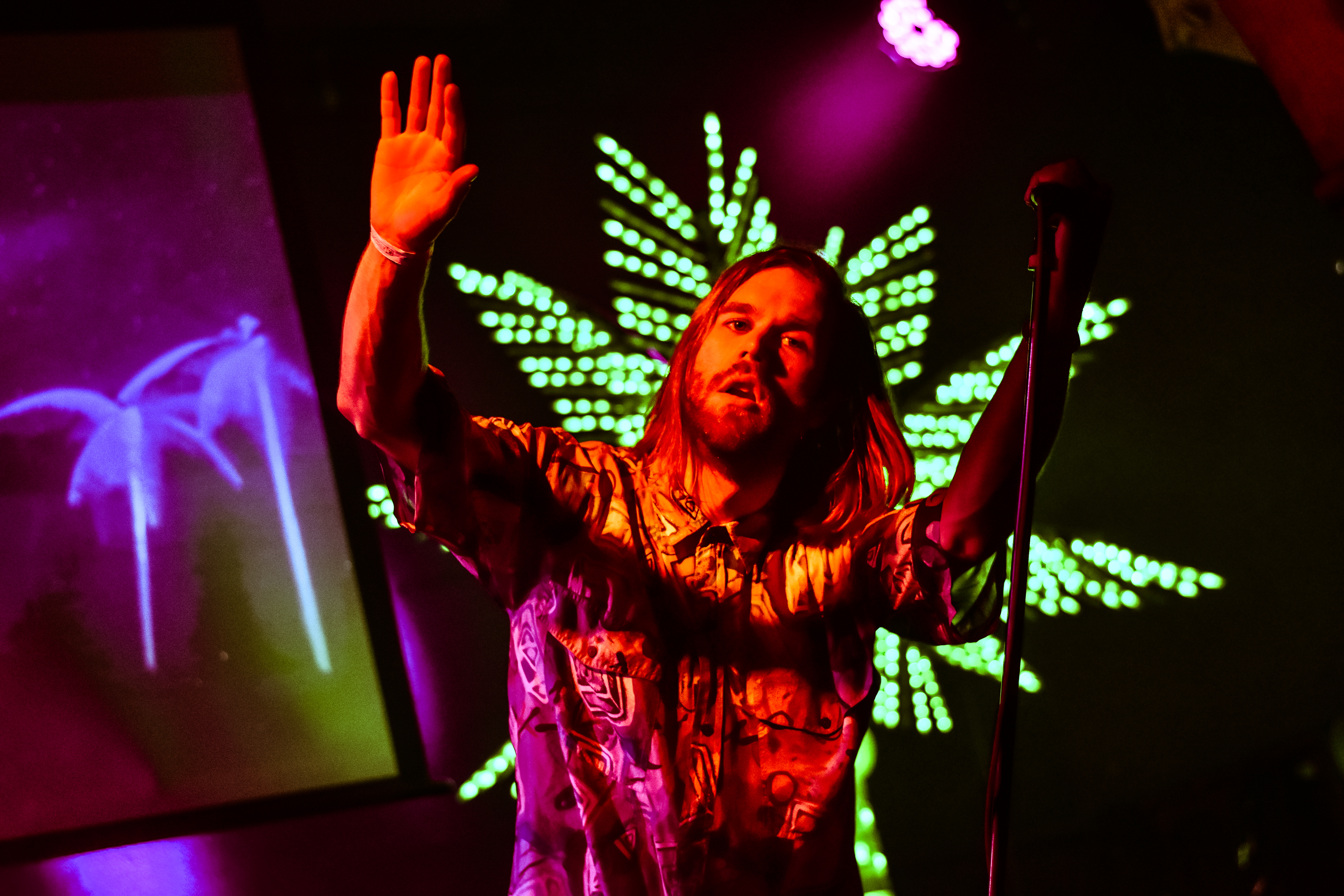 MWN: Haha! So the two songs I really liked off of "Centerfold" were San Diego, 1998 and Miracle. So not to pry, but mainly on San Diego 1998, is that about a certain someone?
THE DARCYS: Ummm it is…It is.. But ya know, they're a hybrid of a real person and fictional person. Part of it kind of came out of this joke. There was this person that I kind of had a crush on  from afar for a long time and they were visiting our city, where we live and I was like maybe I'll go try to meet them. Then we were working on a song that day.
MWN: Was it in the location? San Diego?
THE DARCYS: No, it wasn't in San Diego. But it was kind of about "Okay, like what are you gonna say?" If you meet this person you've loved from afar for so long, what are you going to do? You're not gonna be like "Hey! I'm Jason"  like that's not enough. You've gotta have your pitch, your romantic elevator pitch and the song kind of came out of the idea of what is the amazing thing you could say to someone to be like "come with me" like "we're gonna do this and it's going to be so much incredible" and ya know "we're gonna learn about each other or it's not gonna work" and you know at the end of the day, it doesn't work and we got caught up with finishing the song that day so I didn't go to see this person. So we'll save that for some future interview.
MWN: Haha! Like one thing you mentioned is that you guys are like very intuitive as musicians. So when you structured the order of the album was that purposely done? I felt like from the opener to the end it was fluid in between the transitions.
THE DARCYS: Well I'm glad that someone noticed that. In many ways the album is an outdated medium. Like how often do people listen to a record front to back?
MWN: I'm a vinyl person so I get what you mean.
THE DARCYS: I love that! That's how I grew up. Its sad when people only put on one song like track three or track seven and they skip the rest of it. Just like a song, from beginning to end, it's setting a scene and taking someone on a bit of a  journey is the goal with a record. And so it was a lot of work for us to try and paint the scene and introduce different ideas and themes and bring them back and go through the whole thing. We did a couple revisions but yeah there are so many other things to consider, like the key of one song and the speed. It's like a song that isn't even slow might sound slow after a really fast song. So you try to consider those things, but at the same time you wanna make sure that you're telling a story.
Interview By:Jennifer Machuca |Instagram @jen_machuca| Exclusively for @Music, Why Not! -All Rights Reserved-
****