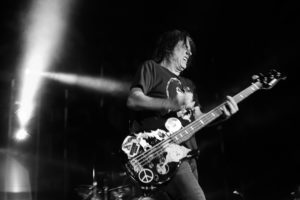 The American Rock band from Buffalo, NY known as The Goo Goo Dolls played an awesome set in Maryhill Winery & Amphitheater in Goldendale, Washington. It was a night filled with electrifying energy and amazing music. They played a full set of hit songs. The crowd sang the words to every song which filled the massive Amphitheater. They opened the night with "Tattered Edge / You Should Be Happy" from their latest album You Should Be Happy which was released on May 12 of this year. The crowd went mental when the chorus hit it was truly an incredible moment. They also performed songs like "Big Machine," "Name,"  and "Already There" which were big crowd pleasers. Their set for that night was pretty lengthy which is awesome, because who wants a great concert to end! The crowd thought they wrapped it all up with their iconic song "Iris," but then they came back on stage to really finish off the night with a full electric version of the song "Boxes." Overall it was
a great concert and I highly recommend you attend one of their concerts if you get the chance next
time they stop in your city or a in a city near you.
****
Coverage By: Jenna Gusey | Instagram @jenna_rosephoto | Exclusively for @Music, Why Not! – All Rights Reserved-
****