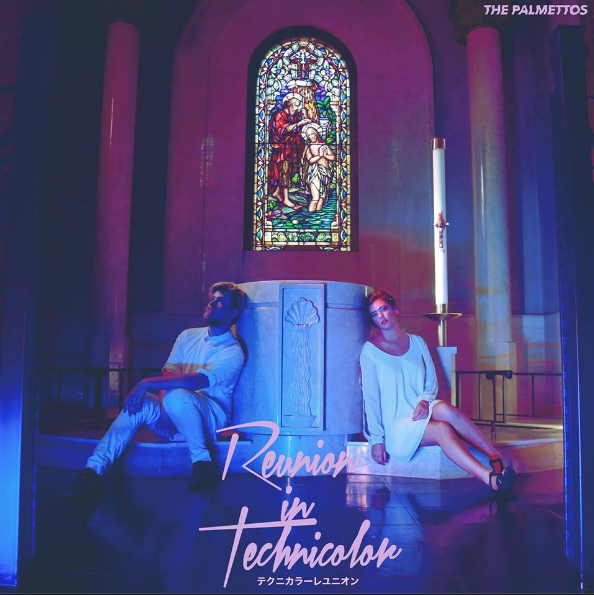 Recently Music, Why Not! Has been on the hunt for new bands to feature. We are fortunate enough to have such a broad following that we can pretty much interview a lot of bands from all genres. It is really cool to see how many amazing band there are making quality music. So when someone tells you "music is dead" you might want to them to check out MWN! They might just find their favorite new band. I scout bands like crazy on Instagram, Facebook, SoundCloud and you'd be surprised the amount of awesome music they have to offer. Recently one of our staff told me about a band called The Palmettos. After listening to their song "Reunion In Technicolor" is was bought. Their music is catchy with their fusion of synthetic sounds and great guitar melodies.  Music, Why Not! Had the chance to talk to The Palmettos and ask them a few questions. We spoke about what their favorite songs are, how they pass time between gigs and more! Check out the interview:
MWN: A really important aspect of becoming a band is the name. Can you guys tell me why you decided to name the band "The Palmettos?"
The Palmettos: The crazy thing is we were actually called "The Sheiks" for the longest time! We all really dug that name. We were kind of trying to design some merch and Brett was like, "Hey, we should probably check if this name is copyrighted before we start selling this shit." Turns it was, and by none other but Third Man Records. We didn't really want to fuck with Jack White so we thought we should probs change it. There's this nice plant in my driveway I see everyday called a palmetto. That's about all the thought that went into it.
MWN:  What types of bands, sounds, and things would you guys say influence the overall sound of the band?
The Palmettos: We all grew up in the mid 2000's so we grew up on bands like The Killers, The Strokes, The Cribs, and Kings of Leon. However, we are equally inspired by lot's of new wave bands like New Order, or The Cure. I'd say we strive to keep that garage rock kind of sound alive, but add in some extra ethereal kind of soundscapes the really flesh out the atmosphere of the music.
MWN:  You guys released "Reunion in Technicolor." I really like this song. I think it is catchy and very well structured, and it has a great melody. I am a little curios to know where the name of the song came from which I know it is part of the chorus.
The Palmettos: Thank you! There is a famous photograph by Robert Doisneau called "The Kiss". I don't know how or why but I've had this photo hung up my whole life, I think the gist of the tune was how strange it is to meet up with someone you used to be very close or perhaps romantically involved with and how it's probably not going to be as mind blowing or romantically charged as the photo is, but it could still be nice to take solace in the fact you are on good enough terms to at least still speak or reunite every so often…. Or it could be the title of a foreign love film from the '50s. The plot thickens!
MWN:  Can we expect any new music soon?
The Palmettos: This year without a shadow of a doubt. We've got two rather lengthy EP's due out early this year, "Prime of Youth", and "Closer to the Coast". You'll have to tell us what you think once they drop!
MWN:  Speaking of putting out new music. Currently what song would you guys say is on repeat for you guys?
The Palmettos: There is this band called "Airiel" we recently accidentally discovered. They aren't really new by any means but they have this song called "In Your Room" that we can't get enough of lately. Check it out.
MWN:  Did you guys find yourself writing more about your past and personal experiences or do you focus on writing more about the "outside world"?
The Palmettos: I feel that the past is a great tool for writing, but you can also get hung up pretty easily if you don't try and inspire your self in different ways. I'd say we use quite a bit of outside influence on a lot of the new stuff you'll hear. It's not that personal experiences don't play a huge roll on several of our tunes, but sometimes it's easier to sit around and perhaps write from the point of view of someone else or what they might be going through.
MWN:  Top three favorite songs of all time?
The Palmettos:  Nobody can answer that! If we had to pick three right now we'd go with "Mint Car" by "The Cure", "Hard to Explain" by "The Strokes", and "The Shiznit" by "Snoop Doggy Dogg"
MWN: How do you pass the time between gigs?
The Palmettos: Lot's of napping, some occasional debauchery.
MWN: One of your favorite records?
The Palmettos: First record I ever owned was "Nsync" by "Nsync". Lets go with that.
MWN: What was one of your biggest musical inspiration growing up?
The Palmettos:  David Bowie's assortment of fantastic hair cuts.
MWN: As we finish of the interview what is something you would like to tell all your supporters?
The Palmettos: Thanks for sticking with us, can't wait for you guys to hear the new tunes. Stay gold, baby.