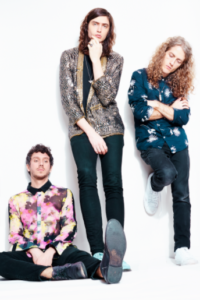 Music, Why Not! recently had the pleasure of talking to Spencer Draeger front man of the Brooklyn based indie pop rock group known as The Midnight Hollow. His hopes of creating a musical project that could withstand the hardships of surviving the music industry led him to make his way from San Francisco all the way to Brooklyn. He had a vision in mind and needed the correct people to make it happen. This led to the unique band making amazing synth indie pop rock tunes known as The Midnight Hollow. Read on to learn more about this band below:
MWN: Hello guys! Thanks so much for taking the time to answer these questions we are stoked to feature you guys on our site!
The Midnight Hollow ( Spencer Draeger ): Thanks for featuring us!
MWN:  Let's go back a bit in time. From my understanding Spencer you moved from San Francisco to Brooklyn after having recorded a couple of demos on your own. When making the move out there what were you hoping to find in terms of solid band mates?
The Midnight Hollow (Spencer Draeger): I'll be honest when I first moved to NY I came with some baggage from years of being in a different band that imploded from musical differences and drugs. It was daunting to think about starting up that democratic type band where we all write songs and do everything together. Instead, I wanted to lead a band and be the songwriter. I didn't want to go through the pain of starting up something that could break up. Long story short, I met Andrew and Matt at a dark bar and we've clicked as unit.  There were some growing pains but we eventually figured out the dynamic. We can develop from my songwriting, reinvent the songs live and they're the best musicians I've played with.
MWN: It definitely sounds hard- I guess forming a band is always difficult, but they looks of it you guys seem to be on the right path. So, When you guys first started playing together how did you guys accommodate to each other's musical preferences? Were your styles of playing really similar?
The Midnight Hollow (Spencer Draeger): Our styles are very different. Andrew comes from a prog/hardcore background and Matt comes from almost a jazz background. I like a lot of synth pop and dance music. We have for sure had many moments wondering how we ended up together but it keeps things fresh. The other day I heard Andrew say, "I think this song is total garbage, I know 'people' would like it but I usually don't like what 'people' like." We are all open and honest, even if something is good it doesn't make it a Midnight Hollow song. Only about 10% of what I write at home makes it into the band and it's taken 2 years to realize what we want.
MWN: I love that you guys all come from different places music wise it is really cool and your music shows that diversity. Do you guys remember the first gig you played together? How was it like?
The Midnight Hollow (Spencer Draeger): Definitely, it was at the Bowery Electric. Probably one of the highlights in my life, haha kind of sad saying that out loud.  I guess for me it was more of a personal experience than for Andrew and Matt. As I said, I moved to New York and I didn't know anyone here and after the last band that I believed in fell apart, playing with my new band and getting it off the ground to play a show just made me feel alive again. It was truly sentimental and it went off without a hitch.
MWN: Haha no that is awesome. I am so glad it went well. Now, New York is very rich in terms of music. Great bands have come out of there from Talking Heads to The Velvet Underground, and The Strokes.  There are so many unique artist just doing their own thing. However, as of lately the couple of bands I have spoken to have brought up of the fact that yes there are great artist, but at the moment there is a lack of good crafting guitar bands do you guys believe that is the case?
The Midnight Hollow (Spencer Draeger):  I'm not sure why there's such a war between guitar and synthesizers in people's minds. Peach Juice was a guitar ripper but our next single, Algorithm doesn't have a single guitar in it, uh oh! Yet they both are huge sounding. I don't have a bias over either instrument. My room in my apartment has guitars all over the walls and then synths on stands, they don't judge each other and get along real well. Safe zone for all!  Someone asked me last week at a show how I got one of my guitar pedals to sound so huge and I said, "that's a synth not a guitar pedal." I translate songs back forth between guitars and keys, I use instruments like tools just to build a foundation for the vocal. Guitar bands aren't dead at all either and there are plenty of surf/beach etc. bands that only use Jazzmasters with fancy chorus pedals are all over BK. They have nice leather jackets too. I think good songwriting and being honest is all you need though. I may write something with a synth and then play it on guitar at the show. Doesn't matter if you're rocking a Japanese analog synth or vintage guitar. Equal Oppertunity!
MWN: I agree and disagree with that I actually have good friends that play in pretty good Jazz and punk bands, but I can see where they are coming from with the lack of solid guitar bands. For you guys are there any bands you can recommend to our readers?
The Midnight Hollow (Spencer Draeger): Blame Candy, Uni, Caverns are all good pals of ours and deserve the world! They are definitely guitar driven and great performers. Some other good guitar bands that I don't know personally are: Moses Gunn Collective, Mild High Club, Gold Celeste, Post Animal and so many others to name.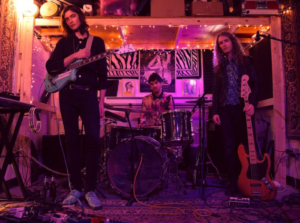 MWN: I will definitely check those out! So as we talked about you guys are in New York now. Did any of the diverse New York music scene influence you guys in any way?
The Midnight Hollow (Spencer Draeger):  I think New York as a city, where we all are all struggling and living on top of each other, has inspired me more than any specific musical scene. I'm influenced by so many artists in different mediums but at times I struggle to find a definitive scene. There are a couple bands I mentioned earlier, Blame Candy, Rochee, Uni, Caverns that have been super supportive.
MWN: Now your new song "Peach Juice" is very well crafted. The vocals are killer, the drum tracks are strong. The guitar solo is electrifying, and it is not just noise- it is melodious. Every component falls into place really nicely. It deffo gives me psychedelic city vibes. So, creatively how did it come together?
The Midnight Hollow (Spencer Draeger): Wow thanks so so much! Musically, this song has been one of the highlights in our set lately and it feels good just having some faster punk driven songs to split up the psychedelia and dance jams. I wanted something fast and it was fun sculpting this song with the band mentality. Lyrically, the song came about because I had this this scratch vocal/place holder, "All I want is to be with you." I couldn't replace the line with anything that fit over the instrumental, so I kept it. Instead of making some sappy love song from the chorus lyric, I chose to talk about the way I'd see women get treated on the regular. The catalyst for the lyrics came from one average day seeing some ass clown on the train harassing/catcalling a woman. The girl seemed so used to it as she walked to the other side of the train without even breaking eye contact from reading her book. She seemed immune like it was just another annoying part of being human. It angered me and I figure I'd use it. We also recorded it with Jorge Elbrecht who plays in Ariel Pink and is mostly a great producer.
MWN:  I find this band so interesting in terms of your sound. You guys mix the components of rock, psychedelic, and pop really well. It is very different in the best possible way. I know a lot of bands sound stays similar, but it does evolve and shift which is completely normal, but as of now who or what inspired this cool technicolored punk rock sound?
The Midnight Hollow (Spencer Draeger): This next album has a lot of themes around the future and where we are at with technology in regards to communication and how we experience life through a screen. "Blade Runner" has always been one of my favorite films and how in a time where we lead such "perfect" lives through manipulation and false profiles we are in a way no different than the robots. Also, I really like the artist, Mike WInkelmann, who designed our album art. I love Com Truise and so many other bands to name, that have a futuristic ambiance. I'm obsessed with all of this because I think we're at a real curve with technology, information, communication and society is surely changing. It's been fun diving deep into that kind of mental landscape even though not all our music sounds that way.
MWN:  Looks like we've got room for two more questions! This is one is kindy of silly so if you had to play in an orchestra what instrument would you choose?
The Midnight Hollow (Spencer Draeger) : Flute is my jam, ordered one on Amazon, it's rough getting it going and a little embarrassing but I bet the neighbors love it.
MWN:  Haha that is awesome! Also if you could jam with any artist dead or alive who would it be?
The Midnight Hollow (Spencer Draeger) : Bowie, John Theodore, Thom Yorke, Kevin Parker, sorry I can't pick one.
MWN: Yeah, same! Bowie tho he is a great choice. Okay, I lied this is the last questions. What do you hope people get from your music and what can they expect from you guys in the future?
The Midnight Hollow (Spencer Draeger): Listen it us as an album and see us live. It all makes sense when people see us live. We are still trying to figure out how to get the energy live on a recording and I hope we never figure it out. The live show should always be above the recording.
MWN: I could not agree with you guys more. The spontaneity in live music should be really important to a band. I am so glad you guys see it that way! I cannot wait to experience your music live. Thanks so much for chatting with me.
Interview By: Maria Limon |Instagram: @shotbylimon exclusively for @Music, Why Not! -All Rights Reserved-
****
*****
Keep Up With The Band
Official Site
Facebook
Instagram
Twitter