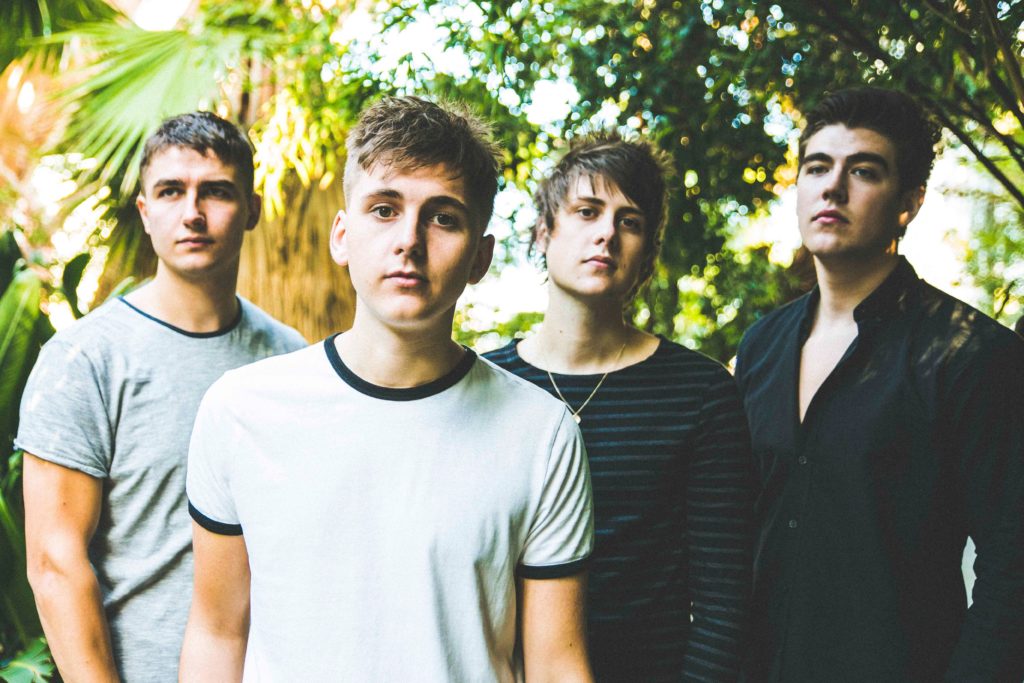 The idea that people have about rock "being dead" is far from the truth. On the contrary rock is re- emerging as a type of music people prefer listening to. For the past 5 years rock bands have been surfacing from all over the place. Currently there are more than a handful of (alternative) rock bands finding great success in the world of music. From relatively newer bands in the popular market like Catfish and The Bottlemen to older ones like Kings of Leon- people are still lining up outside venues to watch them play. People are buying festival tickets to whiteness one of the greatest things on the planet 'Live Music' and currently what is dominating a lot of those festival line ups? Bands.. not just that but a lot of them are alternative rock bands and  indie bands. That is why when I came across The Sherlocks an amazing rock band from Sheffield, England I was not surprised- I was mega excited. I first saw them live back in Austin, TX at SXSW 2016 at the BBC Introducing Stage. They were incredible and have only gone up since then. Selling out venues (when they were not even signed to a label) and gaining music loving fans from all over the world. The Sherlocks a band of sets of brother consisting of Kiaran Crook (Lead Vocals/Rhythm Guitar),  Josh Davidson (Lead Guitar),  Andy Davidson (Bass), and  Brandon Crook (Drums) have crafted their music for years. Hard work, dedication, passion, and talent have landed them a record deal with Infectious records at BMG. Their shows in the U.K are insane- pretty spectacular if you ask me. That is why when we got a chance to feature them on Music, Why Not! we were thrilled! So read on to learn about The Sherlocks your new favorite band!
****
MWN: Thank you so much for taking the time to answer these questions. What I love about this band is how much work you put on your tunes. So how do they come together?- Specifically how did 'Will You Be There?" come about?
The Sherlocks (Brandon): Normally Kiaran writes the base of the song on the acoustic guitar and then brings it to a band practice. From there we all jam the bare bones of the tune and work on our own parts to create 'The Sherlocks' sound. 'Will You Be There?' has always had a real driving sound to it and is a personal highlight of mine when we play live. Huge sing along chorus and gets everyone going crazy!
MWN: That's cool how all of you play a key role in creating your sound. So speaking of sound who are your musical influences (individually and as a band)?
The Sherlocks (Brandon): As a band, we are all pretty much into the same kind of things as we've grown up listening to similar bands. Great bands like the Clash and The Jam influenced us as young musician when we started jamming together. As well as other great bands like Oasis, Stereophonics, The Killers & Kings of Leon, just bands who have great songs and let the songs do the talking. Recently we've been invited to support Kings of Leon on their arena tour which is literally a dream as they have been a big inspiration to us. The balance between genres pretty much writes itself, we enjoy the upbeat rock n roll vibe but we do write such a diverse amount of songs.
MWN: Oasis, Stereophonics, The Clash those are great bands! What I love about your bands is that you guys have such a good balance in your sound. To me it's like a combination of today's alternative rock with a very nice touch of glam rock from the 70s and 80s. How do you come up with your sound? Was this sound what you intended and worked to create or did it just come naturally to you guys as you started playing together?
The Sherlocks (Brandon): Yess!! We've always prided ourselves on being a real guitar band. It's who we are. It started as the guitars and we've just worked everything based on this. We've got our own style and people are really digging it! Yeah it's been a very natural progression but we love where we are at, we've stayed true to our roots but added elements based on our experience as musicians.
MWN: That is exactly what makes this band so great. You guys just get how stay true to your self's. So what do you guys hope people get from your music?
The Sherlocks (Brandon): We just want people to connect and enjoy themselves, every gig is like a party when we turn up at a venue. People seem to just hit another level, we see all the reactions on social media and people have the best time. We just want to get people having a great time and create memories with their mates.
MWN: That is what good live music is all about and I agree your gigs look amazing! People go mad for you guys! So people can learn a bit more about you we asked them to send us questions on social media and we choose two for you today. Keep in mind they are super random questions, so first one is: If you had to play an instrument in a symphony what instrument would you choose?
The Sherlocks (Brandon): Tendor Saxophone, they look dead cool!
MWN: Haha! I love this question- if you got to switch places with a rapper for a day who would you want to be?
The Sherlocks (Brandon): It's got to be Snoop Dogg, he's the man! Listen to his 1st album all the time.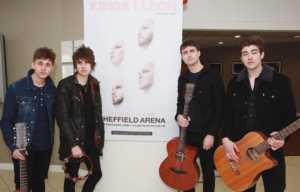 MWN: That is a great album I haven't listened to it in ages. So back to it i guess! As you mentioned you guys currently got the opportunity to be the supporting act for Kings of Leon when they play Manchester Arena and Sheffield Arena in June. So what did you guys think when you found out? Is it something nerve-wracking?
The Sherlocks (Brandon): It' not nerve-racking at all, it's a complete honour to be given the opportunity to support such a great band. We've grown up listening to them, so it's going to be surreal to play the arenas with them
MWN: That's awesome! You guys have come super far from the time I saw guys play SXSW. Another set of exciting news is that you guys recorded your album in the legendary studios Rockfield Studios in Monmouth, Wales. Really amazing bands have recorded there like Oasis, Black Sabbath, The Stone Roses, among many others. How was that like? Is the album coming out soon?
The Sherlocks (Brandon): The album is going to be released 18th Yeah, we recorded it down at the legendary recording studio in Wales. It's such a magical place down there, it's in the middle of nowhere and everything is solely focused on the music!
MWN: We are so thrilled for that and cannot wait to listen to all the tunes on vinyl! By the way I saw you guys signed with Infectious record at BMG! Congratulations that is amazing! I've fan of your music for a while and it is dope to see how much you guys accomplished on your own. So do you have any advice for people starting their own bands?
The Sherlocks (Brandon): Yes we are a very DIY band and always have been. The label are truly incredible! One piece of advice I would give is to stay true what you started and be relentless in your work ethic, if you want it bad enough you'll succeed. You've got to put the time in for things to work.
MWN: I love that- it's good advice so take note kids. Haha! Lastly to finish off the interview. I wanted to thanks you guys for answering these questions. I really appreciate it and I am very excited to see you guys play in America again. Is there anything you would like to say to the people who have supported your music?
The Sherlocks (Brandon): We are so excited to get back over to America we loved the last visit. I think people were struggling to understand our Yorkshire accents, that's a language within itself. We are very grateful to anyone who has even taken the time to listen to our music. It is still pretty insane to see how far we have already come without an album.
Interview By: Maria Limon |Instagram: @shotbylimon exclusively for @Music, Why Not! -All Rights Reserved-
****