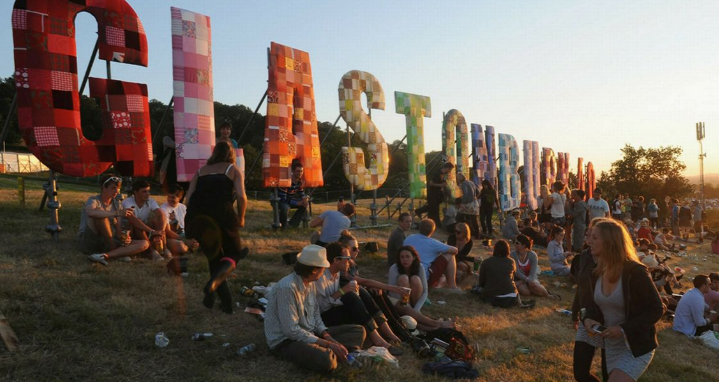 Tips From Hannah- How to Survive Festival Season!
Festival season is just around the corner, and many of your favorites have most likely recently released their line up or are soon to! Whether you like rock, pop, electronic, hip hop, alternative, country, blues, a little bit of everything, or any other genre, there is most likely a festival for you. They take place all around the globe, and millions gather together every year at the biggest of them all. Just a few very popular festivals would have to be Donauinselfest (Vienna, Austria), Rock in Rio (Rio De Janeiro, Brazil), Coachella (California, USA), PARKLIFE (Heaton Park in Manchester, U.K. ) …and of course Glastonbury (Pilton, United Kingdom). Check out your local festivals as well! You may be lucky enough to live next to a big and mainstream festival, but if not, you can always have fun at a smaller one near you.
Okay, okay, it's one thing to save up and get that ticket to go with your best friend, but you'll need to come prepared. Many festivals are hot, crowded, and can be overwhelming for some. They each have their own individual rules, which of course will be broken by some, that should be checked before attending! It would suck to show up with a big backpack and have them not let you bring it in! Some festivals allow or require camping, and some require you staying in a hotel (or your home if you live nearby.) They all vary with different rules and guidelines, but here are a few mainly universal tips to survive festival season.
WATER. This may seem like a no-brainer, but drink loads of water. It may or may not be hot, but with all the dancing you better be doing, you'll need it! Stay hydrated so you don't have to leave early because you're ill, or worse, you passed out.
SUNSCREEN AND SUNGLASSES. How are you going to dance with a sunburn paining you all day? Grab your sunscreen with the highest SPF and lather up every few hours. You'll want your sunglasses to protect your eyes from the bright sun, and to take cute photos of course.
EAT. I don't know about you, but when I'm having fun, I can forget to eat. Now, this shouldn't be a huge problem with all the tempting food stands nearby, but here's your reminder. So, sit down for a minute in the shade, grab a bite to eat, and rest yourself up to get back to having fun.
PLAN! If there are artists you want to see before the end of the day, check the schedule! Two of your favorite artists might be playing at the same time, you'll want to know that ahead of time so you can make the hard decision. If you're coming to just go with the flow and have some fun watching any performance, then it's a bit different I suppose.
BE SMART. Not to sound like your mom, but you should probably be smart. If you aren't camping there and driving home, make good decisions. Many of you will drink. Get yourself a safe and sober ride home or back to your hotel! You can take an Uber, take a shuttle your hotel offers, etc. If it's only day one of a few, you don't want to get hurt and miss the rest of the festival, do you? If you see anything suspicious or someone is causing harm, tell someone! With festivals gathering thousands to millions daily, there's bound to be some idiot in the crowd. Stay with friends and watch each other's back.
DRESS ACCORDINGLY. Put on that outfit you feel confident in, but is comfy. Seriously, it better be comfy. You're going to be there for a long time, you're going to be dancing, and you're going to be walking around. Wear comfy shoes because I think we all can agree that when your feet hurt, it's the worst! Check the forecast. If it's going to be hot and sunny, rainy, or chilly will influence your outfit choice. If you're going to wear makeup; primer, setting spray, and water proof items are key.
PACK. A portable charger, water, cash, sunscreen, sunglasses, band-aids, ibuprofen, your I.D.; these are all things you could possibly need! Meds and such will most likely be available in a first-aid station, but you pack what you think you need. Check the rules because once again, some of these may not be allowed. Also, some festivals have markets you could buy items at if you forgot to bring them. Adjust your packing list to your needs. If you're camping there, that's a whole different story. Tents, food, clothing, and so much more will be needed. The rules will need to be carefully read if you're bringing things to camp with.
HAVE FUN. Take a few pictures as a memory, but remember to live in the moment. I understand, you absolutely love this song and want a little video to watch back, you want to take a video of you and your friends dancing and singing together, or you want a photo to share on social media. Yet, sometimes we don't even want a video or photo and we out of instinct pull out our phone because we're excited. Fight the urge and enjoy some no-screen time. Some people dance their heart out with no problem, some don't. Whichever you are, dance! The crowds are large and chances are no one is paying attention to you specifically. Trust me, loads of people there are just as bad at dancing, but it's still fun! Sing alone, jump up and down, and enjoy yourself. Festivals only last so many days, make the best out it.
I don't know about you, but I'm looking forward to seeing the rest of the festival's line ups to be released! If you can't go this year, there's always next year… and the year after that. Happy festival season, enjoy yourselves!
-Hannah Rose.
|Catch me on Instagram: @hannarose11 |
Check Out Some of Our Favorite Lineups!