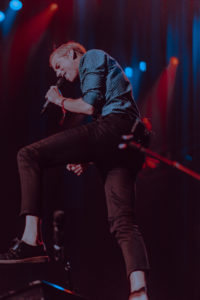 A couple weeks ago The Big Ticket Fest took place in Jacksonville, FL & Music, Why Not! had the absolute privilege to cover it. The event included a variety of performances from some of today's biggest bands in Alternative music.
Included in his set- Andrew McMahon delivered a great performance. Mid through his song he interacted with the crowd hopping on a inflatable duck floaty & being carried by the crowd- a new popular take on crowd surfing. The crowd went wild as he sang his most popular song to date "Celia And The Satellite."
Bleachers putting another solid performance in Florida- as they state in their song "I Miss Those Days" they drove themselves down to Florida. Keeping up a good chemistry between the audience who were pumped to hear songs like "I Wanna Get Better" & "Don't Take The Money" they showed up & showed off with some awesome Saxophone solos!
Mondo Cozmo showed us that sometimes it isn't about a big production but simply just great music. The crowd was hit with a wave of chill vibes from the bands music. Warming us up for the night- Mondo Cozmo was actually the first in line up. They even let the crowd in a little secret- their band name was actually named after their lead singer Joshua Ostrander's dog.
Below are pics from performances by: Andrew McMahon in the wilderness, Bleachers, & Mondo Cozmo.
****
Andrew Mchanon
Bleachers
Mondo Cozmo
Coverage By: Nicole Solero | Exclusively for @Music, Why Not! | All Rights Reserved