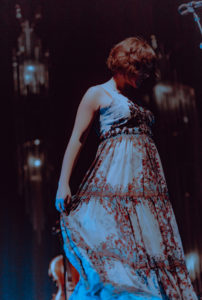 Appropriate for the date of the event, December 1st- New Politics took it upon themselves to spread some holiday cheer by coming unto the stage all dressed up in Christmas sweaters. Of course that wasn't all that surprised the crowd but we were shown some awesome dance moves by the the lead vocalist David Boyd as he started break dancing mid set. As the 2nd in the event line up, New Politics were the first of the night to have a band member step from off the stage & into the barricade climbing over the crowd. An iconic moment was captured as David Boyd stood in the hands of audience members whilst ending a song.
Of course they weren't the last to do such a thing- next in the line up was Saint Motel. As where their Lead Vocalist also stepped off from the stage & interacted with the crowd reaching over the barricade grabbing hands of estatic audience members. And though none of them started break dancing like David Boyd from New Politics they did bring in some funky tunes. A special moment took place when all the band members stood by each other side by side jamming out.
Walk The Moon were absolutely everything you can imagine. Colorful wardrobe choices, & faces painted. Showing up with new songs from their latest album like "Kamikaze" & "Surrender" but also bringing everyone back to the past with their classic single "Anna Sun" or "Lisa Baby". Of course it was not to be missed when they performed their huge radio hit "Shut Up & Dance With Me" That's when sounds of the audience singing back filled the room. Drawing smiles to members of the band & smiles back to us who absolutely love the band.
To end the night- The Lumineers. After a whole night of dancing & crowd surfing between performers & the audience. The Lumineers brought the crowd back in with what Mondo Cozmo introduced in the beginning- a folk & chiller vibe. Each member of the band held a spotlight moment while jamming out. Confetti burst & filled the room ending a night of high energy & great talent. This festival was one not to miss.
Below are pics from New Politics, Saint Motel, Walk The Moon & The Lumineers.
****
The Lumineers
Walk The Moon
Saint Motel
New Politics
Coverage By: Nicole Solero | Exclusively for @Music, Why Not! | All Rights Reserved